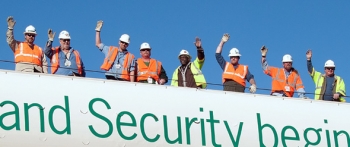 Workers gather behind a "Safety and Security begins with Me" banner at the Savannah River Site.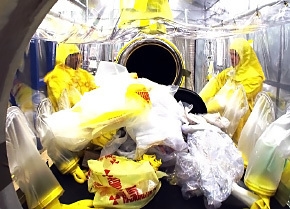 Workers sort through transuranic waste at the Savannah River Site.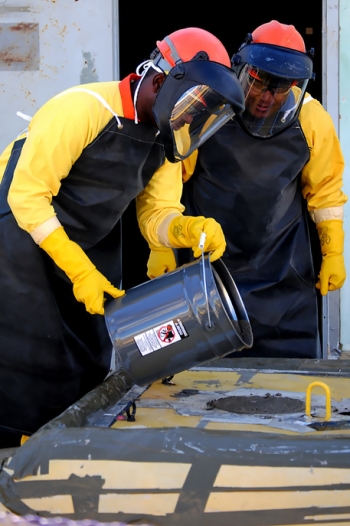 SRR employees Glenn Kelly and Fred Merriweather pour the final amount of grout into Tank 6.
AIKEN, S.C. – EM and the Savannah River Site (SRS) management and operations contractor worked efficiently, effectively and creatively in 2013 to complete the American Recovery and Reinvestment Act (ARRA) goal to prepare 5,000 cubic meters of legacy transuranic (TRU) waste for shipment and disposal at the Waste Isolation Pilot Plant.
EM and Savannah River Nuclear Solutions (SRNS) also remediated nearly all 200 cubic meters of a difficult waste — in addition to the 5,000 cubic meters of TRU waste dispositioned — and repackaged it for certification and shipment.
In 2013, SRNS was honored as one of three finalists for the Project Management Institute's "International Project of the Year Award," a tribute to the company's project management expertise in the site's ARRA work.
In October, the SRNS workforce achieved 21 million hours without injury or illness resulting in time away from work. DOE honored SRNS with the 13th Voluntary Protection Program Star of Excellence and the National Safety Council recognized SRNS as an industry leader.
Two SRS assets were at the center of an amended record of decision issued by EM in 2013. H Canyon and L Basin both acquired new projects to extend their mission life for years while playing important roles in global nonproliferation and domestic nuclear energy programs.
In liquid waste operations at SRS this year, EM and its liquid waste contractor, Savannah River Remediation (SRR):
Closed two more underground tanks containing radioactive waste, helping reduce a significant environmental risk to South Carolina. Representatives of South Carolina Department of Health and Environmental Control, more than 100 SRR tank farm employees and others gathered to celebrate the closing of Tanks 5 and 6 on Dec. 18. They watched SRR grout finishers Glenn Kelly and Fred Merriweather pour the last bit of grout into Tank 6, topping off the tank and completing the project. Tanks 5 and 6 were closed a year ahead of schedule; 
Reduced the number of radioactive curies in the stored legacy nuclear waste by 23 percent, which leaves 299 million curies of radioactivity remaining from the initial 376 million curies;
Poured nearly 844,000 pounds of glassified waste for a total of more than 14.5 million pounds since the Defense Waste Processing Facility began operations in 1996; and
Processed over 2 million gallons of decontaminated salt solution at the Saltstone Facilities for a total of nearly 13 million gallons since startup in 1990.
Also in 2013, the site's security contractor, WSI-SRS: