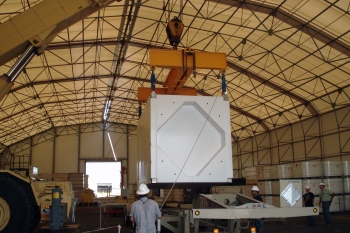 By May, Savannah River Nuclear Solutions expects to be shipping transuranic waste to the Waste Isolation Pilot Plant almost continuously, using six TRUPACT-III shipping containers like the one shown here.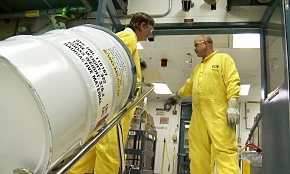 Workers relocate a pipe overpack container used to transport small amounts of excess plutonium oxide destined for long-term storage at the Waste Isolation Pilot Plant in Carlsbad, New Mexico.
AIKEN, S.C. – In 2012, the Savannah River Site (SRS) is scheduled to achieve a milestone by completing processing of 5,000 cubic meters of legacy transuranic (TRU) waste for shipment to a safe, permanent disposal facility.
A large portion of that waste — a byproduct of nuclear defense program research and weapons production — has already been shipped to the Waste Isolation Pilot Plant in New Mexico. The site will continue shipments until the remaining inventory is removed. Following the scheduled completion of processing the 5,000 cubic meters of TRU waste later this year, only 200 additional cubic meters of TRU waste will remain at SRS for treatment.
"By the end of 2012, we will have remediated, repackaged and certified for shipment all but 200 cubic meters of transuranic waste at SRS, meeting a vitally important milestone for our site-wide cleanup program," said David Moody, DOE's Savannah River Operations Office Manager. "This means that over 95 percent of our legacy TRU waste will soon be gone from South Carolina for long-term storage at the DOE Waste Isolation Pilot Plant (WIPP) in Carlsbad, New Mexico, leaving a very small amount that will require some special treatment."
TRU Waste Processing Enters New Phase
According to John Gilmour, Solid Waste director at Savannah River Nuclear Solutions (SRNS), the SRS management and operations contractor, success in the TRU program has resulted from several factors. New, larger TRUPACT-III shipping containers eliminate much of the need to manually reduce in size numerous, large pieces of TRU waste, saving time and minimizing employee exposure to radioactive materials, primarily plutonium-238. Plutonium-238 was once used as a heat source to generate power for deep space missions.
"By May, we'll have six TRUPACT-III shipping containers onsite and the shipping process to WIPP will be almost continuous," said Gilmour. "Our highly trained and talented workforce has learned to quickly recognize and productively respond to variables found when working with legacy radioactive waste materials."
Each TRUPACT-III container can hold up to 6.6 cubic meters of TRU waste.
New Mission Takes Shape
A new SRS mission involves use of a previously unused portion of H Canyon to process and repackage plutonium (Pu) oxide.
Most of the Pu oxide in the U.S. has been consolidated at SRS and will eventually go to U.S. commercial power reactors in the form of new fuel rods. However, the relatively small percentage of Pu oxide at SRS without the properties needed for use as commercial reactor fuel will be packaged in rigorously tested containers for shipment to WIPP by SRNS Solid Waste personnel in 2012. 
"Over 100 of these specially designed metal containers, known as Pipe Overpack Containers, or POCs, have already been loaded with Pu oxide," said Gilmour. "H Canyon has enough Pu oxide to safely fill approximately 600 of these new containers during the current campaign and potentially thousands in the future."
According to Gilmour, once the project moves to full-production mode this year, he expects to see three to four shipments of unusable Pu oxide leave the site each week, bound for WIPP. Each truckload of waste will contain 35 POCs.
2012 Holds Great Potential for Waste Remediation at SRS
In the past, SRS had a large amount of radioactive material stored in a variety of containers. "This waste would have been here a long time if it hadn't been for American Recovery and Reinvestment Act funding," said Gilmour. "It's going to be a very busy year for SRNS as we safely prepare and send out shipment after shipment of TRU waste and excess plutonium to New Mexico."
H Canyon is the only active nuclear chemical separations facility still operating in the U.S.