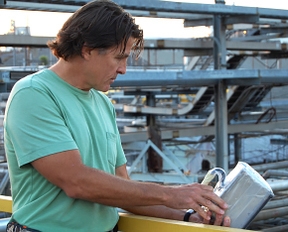 SRR Radiological Protection Inspector Tony Spence, who graduated from ATC, performs radiation monitoring duties.
AIKEN, S.C. – Savannah River Remediation (SRR), the liquid waste contractor for the EM program at the Savannah River Site (SRS), requires workers with unique skills to protect employees from radiation as the company works safely toward completing its mission.
   SRR has nine new employees with those skills, and they are helping treat and disposition radioactive waste and close waste tanks. They are all graduates of Aiken Technical College (ATC), a public, two-year institution.
   Workers in SRR's Radiological Protection Program ensure adherence to regulatory requirements and provide radiological support to the workforce. They are trained and qualified to use specialized survey instruments that monitor radiation and contamination. 
    Radiological protection inspectors and their supervisors guide workers in the radiological aspects of the job to minimize worker exposure to radiation and to prevent the spread of contamination.
   SRR wants skilled workers who can quickly transition from the classroom to the field.
   "The ATC students we have employed are doing a good job in a needed field," SRR President and Project Manager Ken Rueter said. "They have learned how to safely operate and perform within our mission, and it's a testament to the quality of their training and their passion to do outstanding work."
   ATC President Dr. Susan Winsor said the college's relationship with SRR and other nuclear-related companies allows students to obtain real world experience, making them better trained and more employable.
   "With ongoing missions at the Savannah River Site and construction at Plant Vogtle and V.C. Summer Nuclear Power Station, the nuclear industry in our region is poised for tremendous growth," Winsor said. "By working closely with our nuclear industry partners like SRR, we are able to ensure that the industry's workforce needs are met and our citizens have the high-quality training needed to secure careers in this high demand industry."
   SRR Senior Radiological Protection Inspector Seth DuVall said ATC prepared him well for the work he does.
   "My profession – what I do at SRR – is exactly what I was trained for at Aiken Technical College," he said.
   Tony Spence is an SRR radiological protection inspector who graduated from ATC. He is a non-traditional student who wanted a new career direction.
   "I decided to re-tool myself when, after working in manufacturing for 26 years, I knew I wanted a different job," said Spence. "I made a list of what types of jobs I wanted, and radiological control could not have fit any better. I thoroughly enjoy my job."