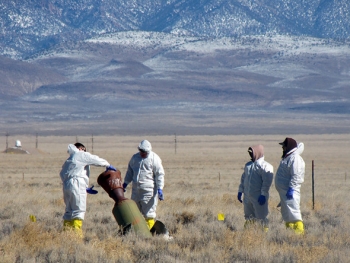 Though not linked to activities at Clean Slate III, the rocket is situated inside the historic testing location, identified for the plutonium dispersal test conducted under Operation Roller Coaster in June 1963.
LAS VEGAS – Nevada Field Office and U.S. Air Force staff conducted inspections of a partially-buried rocket located at a historic testing location on the Tonopah Test Range (TTR) earlier this year.
While the origin of the rocket and the time frame of its launch are unknown, TTR personnel report seeing the rocket at this Clean Slate III location since the mid-1980s.
Established 30 miles southeast of Tonopah in 1957 by Sandia Corporation, the TTR provided a remote, restricted area for the Atomic Energy Commission, DOE's predecessor agency, to test new weapons systems and conduct low-altitude, high-speed aircraft operations.
Activities at the TTR were expanded to accommodate tests related to DOE's Weapons Ordnance Program. Specific tests have included air drops of simulated weapons, gun firings, ground-launched rockets, air-launched rockets deployed from aircraft, traditional, non-nuclear explosives testing and static rocket tests.
Following inspections that found the rocket to be free of explosive hazards, Nevada Field Office personnel are making plans to remove it this year. Full cleanup activities at Clean Slate III are scheduled for the 2017-2024 timeframe.
More information on Sandia activities at TTR can be found here. To view a map of Nevada Field Office remediation sites, click here.