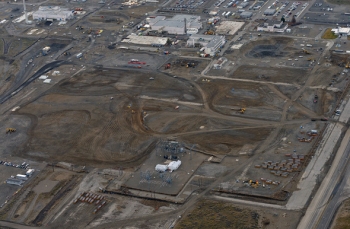 An aerial view of Hanford's 300 Area North Section following completion of cleanup.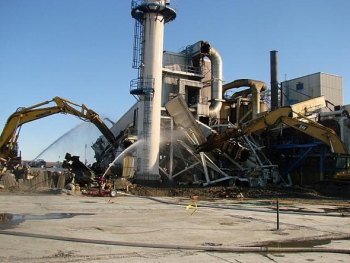 Workers demolish the 384 Building, known as the Power House and Heating Plant, in the north portion of the 300 Area.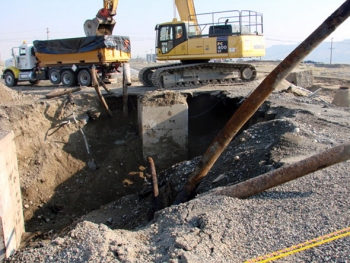 More than 8,000 feet of pipe — part of the 300 Area's process sewer system — was removed from the 300-15 Waste Site in the north section.
RICHLAND, Wash. – EM met a Tri-Party Agreement milestone by completing cleanup of the north portion of Hanford's 300 Area. 
One mile north of Richland, adjacent to the Columbia River, 300 Area was the center of Hanford's radiological research, development and fuel fabrication activities for almost 60 years.
Nearly every step in the plutonium-production process was first tested in 300 Area, resulting in highly contaminated facilities and waste sites. The north portion specialized in fuel fabrication and testing of newly manufactured fuel. It also served as the main warehousing and infrastructure section of 300 Area.
Cleanup of 300 Area is part of the River Corridor Closure Project, one of the largest environmental cleanup projects in the nation. Washington Closure Hanford manages the project for EM's Richland Operations Office (RL).
More than 150 of 171 surplus buildings in 300 Area have been demolished. Challenges remain in the south portion, including removal of a vault that contained high activity waste from DOE Office of Science activities and testing and research reactors.
To complete remediation of the north portion, workers demolished 60 buildings and cleaned 53 waste sites that contained radioactive and chemical waste. About 950,000 tons of contaminated material was removed, packaged and shipped to Hanford's Environmental Restoration Disposal Facility for disposal.
The work also involved demolishing the 305 pile, a historic test reactor. The pile supported Hanford's B Reactor, the world's first full-scale nuclear reactor that began irradiating fuel in September 1944.
All surplus facility building demolition in the 300 Area is scheduled for completion by the end of calendar year 2013.