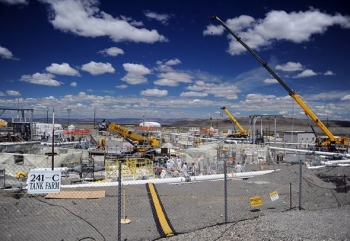 EM's Office of River Protection has successfully removed waste from a tenth storage tank at the Hanford site. Located in C Farm, C-109 is one of 16 underground tanks ranging in capacity from 55,000 to 530,000 gallons.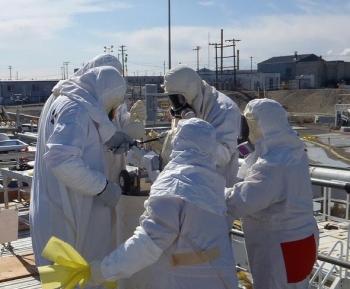 Standing near a pipe providing access to the tank below, workers initiate a water soak aimed at loosening hard-to-remove-waste from the bottom of the underground tank known as C-109.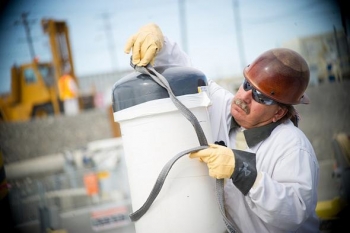 A crane and rigging worker prepares to lift equipment into position near C-104, one of three underground waste storage tanks emptied this year at Hanford.
RICHLAND, Wash. – The Office of River Protection (ORP) has completed retrieval of radioactive and chemical waste from the tenth underground waste storage tank at the Hanford site.
C-109 is the third single-shell tank completed this year, an accomplishment that moves ORP and prime contractor, Washington River Protection Solutions, one step closer to meeting a regulatory commitment of emptying all 16 tanks in C Farm by the end of September 2014.
An engineering evaluation in the field shows the waste volume in C-109 is below the regulatory requirement of 360 cubic feet of waste remaining in the tank. Video of the 530,000-gallon-capacity tank shows a large percentage of the tank bottom is now visible.
"The completion of retrieval activities in the second tank within a month and the third tank this year marks a historic achievement at Hanford tank farms," EM Assistant Manager for the Tank Farms Project Tom Fletcher said.
Retrieval of C-109 began in 2007 using modified sluicing as the first retrieval technology. This process used recycled liquid waste from a nearby double-shell tank to mobilize the waste to the center of the tank where it was pumped and transferred to a receiving tank. This process continued for about a year at which point the bulk of the waste was removed, leaving an estimated 8,600 gallons of hard-heel waste to be retrieved.
Deployment of a second retrieval technology in C-109 took place earlier this year, as crews began a two-step chemical soak process to dissolve the hardened remaining waste, first by performing a water soak and then adding sodium hydroxide to the tank to loosen and break down the hardened waste at the bottom of the tank. This chemical dissolution process has been used successfully in two other Hanford tanks this year, C-104 and C-108.
Most recently, waste retrieval began in Tank C-101, a single-shell tank containing roughly 88,000 gallons of waste.
In all, crews have removed waste from six different underground tanks in 2012, completing retrieval activities in three tanks and removing the bulk of the material from another two. And, for the first time in Hanford history, workers removed waste solids from three different tanks simultaneously.