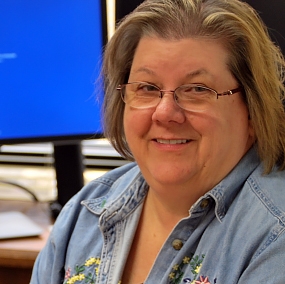 Pamela Thompson is retiring from her 37-year federal career.
LEXINGTON, Ky. – As the retiring supervisory contracting officer for EM's Portsmouth/Paducah Project Office (PPPO), Pamela Thompson exemplifies the wisdom of her own advice. 
   She credits her diverse 37-year federal career to confidently seeking new challenges while she climbed the civil service ranks to positions where she oversaw billion-dollar cleanup projects and nine-figure contracts.
   "You can't expect to learn all you need to learn in one place. You need broad-based experience if you're going to have a satisfying career," she said.
   After graduating from the University of Missouri-Rolla (now the Missouri University of Science and Technology), Thompson worked at a semiconductor manufacturing plant in California before returning to Missouri where she joined the civil service with the Veterans Administration hospital in Columbia, Mo. She later joined the Department of the Army where she began her contracting career, and then the Department of the Navy, where she became a liaison contract specialist and worked on major defense procurement packages at the China Lake Naval Air Weapons Station in California.
   "There was a lot of innovative work there because it was research and development and it was during the Strategic Defense Initiative," Thompson said, referring to President Ronald Reagan's missile-defense strategy, dubbed "Star Wars" by many at the time.
   Working with supercomputers, superconductors, and fiber optics to develop cutting-edge lasers and weapons in the 1980s, Thompson faced myriad challenges, including a trade embargo while ensuring competitive contract acquisitions in the Cold War. Thompson's group supported work on submarine- and air-based systems, including Harpoon cruise missiles, Sidewinder air-to-air missiles, and even an early drone program.
   Thompson joined EM in 1995 and was assigned to Weldon Spring, in the St. Louis area. The facility previously processed uranium ore into metal feed material sent to the Portsmouth and Paducah gaseous diffusion plants in Ohio and Kentucky, respectively, to be enriched. The Weldon Spring site closed when operations were consolidated at its sister site Fernald in Ohio in 1966.
   "From 1995 through 2004, the site remediation completion was under budget and ahead of schedule," Thompson said of Weldon Spring. "It was left with beneficial reuse, including prairie plants, a college extension campus and an interpretive center maintained by the college. There are long-term monitoring wells still maintained by DOE."
   During her last two years at Weldon Spring, Thompson worked as both contracting officer and project manager. 
   In 2004, she joined the newly formed PPPO, where EM manages the former gaseous diffusion plants. The work there includes environmental remediation, deactivation and decommissioning, and depleted uranium hexafluoride (DUF6) conversion.
   "I have known Pam Thompson for two decades, and her dedication over the past decade as the senior procurement official for PPPO has been integral to our mission accomplishment," said William E. Murphie, PPPO manager since the office's inception. "Her experience and institutional knowledge will be sorely missed. We wish her all the best in her future endeavors."
   Over the years, PPPO has had a major focus on awarding contracts to small businesses, and four small business contractors working for PPPO have won DOE Small Business of the Year awards.
   "I especially enjoy mentoring and helping the very small businesses be successful," Thompson said. "Seeing them now being able to compete and win awards, that's exciting."
   Innovation and creativity are hallmarks of PPPO, Thompson said. She pointed to the current effort to negotiate a sales agreement for some of EM's inventory of depleted and off-specification uranium as an example.
   "To be creative, you have to know your regulations and be able to bring people along and explain why even though something has never been done before, it's still allowable and a good idea," she said.
   As contracting officer for the DUF6 conversion project, Thompson has been significantly involved with the first-of-their-kind plants that convert EM's inventory of DUF6 to uranium oxide for disposition and hydrofluoric acid for industrial use and will continue to do so for decades.
   "In civil service you can take part in positive activities like cleaning up a disposal site or perfecting a weapon that minimizes impacts to civilians," said Thompson. "You can get opportunities to point to something and say, 'I was part of that.'"