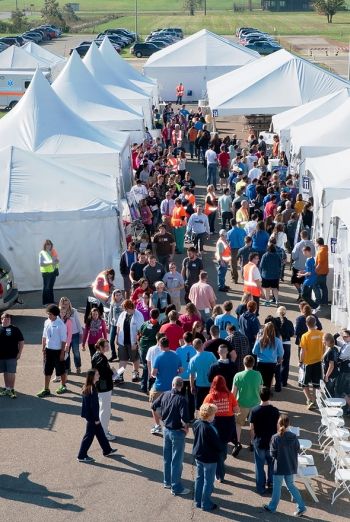 A record 1,200 students and educators visited EM's Portsmouth Gaseous Diffusion Plant for the fourth annual Science Alliance.
PIKETON, Ohio – More than 1,200 students and educators from 23 southern Ohio schools visited EM's Portsmouth Gaseous Diffusion Plant site for the fourth annual Science Alliance earlier this month.
That is a record number of students and schools that participated in the science fair, which includes demonstrations related to science, technology, engineering and math (STEM) and provides the students with career information related to those fields.
"We believe this event broadens horizons for young people," said Portsmouth Site Director Dr. Vincent Adams. "Our objectives are to enlighten students on STEM-related activities and affiliated educational and career opportunities, and educate them about the Portsmouth Gaseous Diffusion Plant. We believe this event has accomplished those things and beyond."
Representatives from the Ohio Environmental Protection Agency, Portsmouth Site-Specific Advisory Board, Southern Ohio Diversification Initiative, regional universities, United States Enrichment Corporation and EM prime contractors (Fluor-B&W Portsmouth, Restoration Services, Inc., Wastren-EnergX Mission Support) joined EM in providing demonstration stations and other aspects of the event. The demonstration stations included a variety of topics, including plastics engineering, historic preservation, recycling, groundwater monitoring and the nuclear fuel cycle.
"We would like to thank the schools and our partners for their contributions to this event. We believe this is a popular and successful event, but without their participation it could not be possible," Adams said. "Enhancing STEM-related education is a national initiative and everyone who played a role in this event should feel like they contributed to that effort."
The schools participating in the event were Adena, Eastern Pike, Green, Huntington Ross, Jackson, Lucasville Valley, Paint Valley, Pike Christian Academy, Pike County Career Technical Center, Piketon, Portsmouth, Portsmouth West, Northwest, Notre Dame, Scioto County Career Technical Center, Sciotoville East, Southeastern, South Webster, Unioto, Waverly, Wellston, Western Pike and Wheelersburg.
Click here for more information on the Science Alliance.