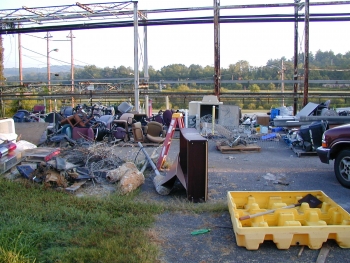 A waste area at an East Tennessee Technology Park scrap yard before cleanup.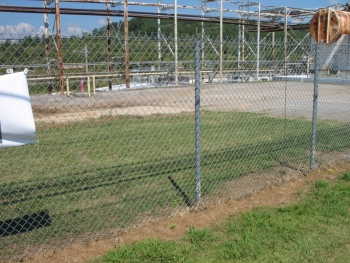 The site of the waste area after removal of debris.
OAK RIDGE, Tenn. – A term like "Project Wipeout," may conjure images of military operations, extreme sporting events or a comical competition show on television.
However, at Oak Ridge, it refers to an effort to locate, identify, and remove legacy waste scattered throughout the site.
In August 2011, EM's contractor in Oak Ridge, URS | CH2M Oak Ridge (UCOR), began using available workers and other resources for the mission to eliminate primarily non-radioactive construction debris at locations across the site. Some of these areas are small with a few pallets and recyclable metal. Others cover thousands of square feet in debris. All of them require active surveillance and maintenance to account for the material and ensure they are stable and secure.
Although personnel and resources are fully deployed most of the time, the initiative maximizes efficiency during occasional slower periods between peak work demands.
"We are very pleased with UCOR's proactive decision to eliminate this material," said Sue Cange, acting assistant manager for EM. "Removing this material from our site was the correct course of action. It reduces future surveillance and maintenance costs, improves safety, enhances aesthetics, and in some cases, it is bringing facilities closer to demolition."
Project Wipeout was launched at the East Tennessee Technology Park (ETTP). A similar effort, "Operation Clean Sweep," was initiated in the cleanup areas at the Oak Ridge National Laboratory (ORNL). These initiatives dispose of wood, scrap and debris piles, orphan drums, recyclable metal, waste chemicals, unneeded equipment, and other excess material requiring surveillance. The teams consolidate the material at a central location for management and characterization for disposition.
Disposing such material using existing resources reduces the overall cost of site decontamination and decommissioning projects and other cleanup. In addition, identifying, characterizing, and disposing of the legacy material helps make ETTP and ORNL cleaner and safer and frees resources for use in other EM projects at Oak Ridge.