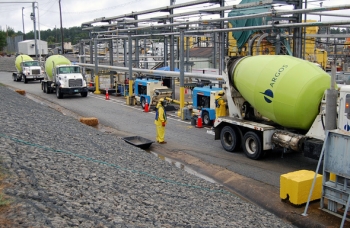 Grouting of two Savannah River Site waste tanks began in August. Here, the first trucks with grout arrive at F Tank Farm.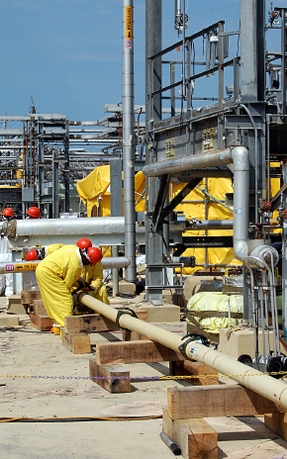 Savannah River Remediation employees work on the transfer line used to move grout to tanks 5 and 6.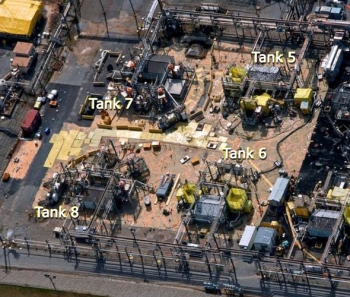 An aerial view shows tanks 5 and 6, which are scheduled for closure this fall. Nearby are two other underground waste tanks.
AIKEN, S.C. – The EM program at the Savannah River Site (SRS) is filling two radioactive liquid waste tanks with a cement-like grout in an effort to operationally close them this fall.
EM and SRS liquid waste contractor Savannah River Remediation (SRR) have worked for years toward closure of tanks 5 and 6.
"DOE believes that it is vital for SRR to manage the waste in these tanks, not only for the local community but for the nation," DOE Savannah River Manager Dr. David Moody said. "SRR has been achieving the mission and is reducing the risk for both present and future communities."
In all, there are 45 tanks at SRS containing about 37 million gallons of waste. Last year, workers closed tanks 18 and 19 ahead of schedule, a major accomplishment for SRS.
Because some of the old-style tanks are situated in the water table, they are considered a top priority for closure. All waste removal and tank closure activities are overseen by the South Carolina Department of Health and Environmental Control and the Environmental Protection Agency (EPA). Removing waste from the tanks must be completed to meet milestones in the Federal Facility Agreement, which was signed by the state of South Carolina, DOE and EPA.
SRR President and Project Manager Ken Rueter credits his workforce for tank closure success.
"The employees at SRR prove year after year that they are the best in the world at what they do," he said. "They not only get the work done on schedule, they get it done safely."
Tanks 5 and 6 supported F Canyon activities at SRS from the late 1950s to the early 1970s, when waste removal activities in the tanks began. Tank 5 held 730,000 gallons of waste and Tank 6 stored about 732,000 gallons.
In addition to tank closure, in fiscal year 2013, which ended Sept. 30, SRR reached contract milestones in the Interim Salt Disposition Process, which treats salt waste from the underground storage tanks. Salt waste takes up more than 90 percent of tank space. The Actinide Removal Process (ARP) and Modular Caustic Side Solvent Extraction Unit (MCU) remove radioactive constituents from salt waste.
In fiscal year 2013, SRR set three production records at ARP/MCU:
daily average production of 12,600 gallons of salt waste;
weekly production of 68,800 gallons; and
yearly production of over 1.2 million gallons.
To move toward tank closure, sludge in the tanks must also be safely removed from the tanks. The Defense Waste Processing Facility (DWPF), which treats the sludge, has produced over 3,700 canisters of molten glass encasing the sludge since starting operations in 1996. The canisters are 10 feet tall and 2 feet in diameter. In 2012, DWPF set a new record, producing 275 canisters in one fiscal year. DWPF employees also set a record for canister production in August 2013 by producing 40 canisters, exceeding the previous total of 37 canisters produced in December 2011.