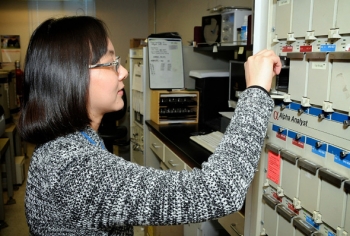 Hnin Khaing of WIPP Laboratories checks a radiological sample, similar to what would be analyzed in an event like the one simulated in the exercise to test national readiness to respond to a large radiological event.
CARLSBAD, N.M. – For the first time, a program led by EM's Carlsbad Field Office (CBFO) that coordinates analytical capabilities throughout DOE for response to potential radiological incidents joined an exercise to test national readiness for such an event.
The National Analytical Management Program (NAMP) partnered with the National Nuclear Security Administration (NNSA) Federal Radiological Monitoring and Assessment Center (FRMAC) in the exercise this year.
Emergency planners specifically designed the exercise scenario to test readiness response for a large city — Seattle was chosen — with its downtown targeted by an improvised nuclear device. For two days, Seattle's Emergency Management Agency and response organizations from around the country were put to the test, including a multi-agency body with members from 10 different federal agencies. 
One of those agencies was DOE, with NAMP and FRMAC collaborating to form one DOE network. Their primary role was to perform sample analyses collected from the detonation zone to determine which radiological isotopes were contained in the blast, the extent of contamination and dose rates and to project the direction of radiological plumes.
CBFO, which has responsibility for the Waste Isolation Pilot Plant and the National Transuranic Program, has led NAMP since fall of 2010.
"NAMP is addressing a vital need to attain the most effective use of technology and resources for U.S. radiological preparedness," said CBFO Manager Joe Franco.
The data collected by NAMP and FRMAC provided the information decision-makers needed to take countermeasures to protect responders, civil workers and health care providers, in addition to minimizing exposure to people living within the fallout zone. DOE uploaded more than 17,000 simulated records related to the scenario.
"It was very successful," said Oba Vincent, CBFO senior strategist, who serves as NAMP's director. "One of the most important outcomes for us is that the exercise identified the need for DOE to continue to have its own laboratory network, and we're working with NNSA to expand the network capabilities."
The collaboration between NAMP and FRMAC was well done and NAMP received praise from FRMAC for its coordination efforts, Vincent said.