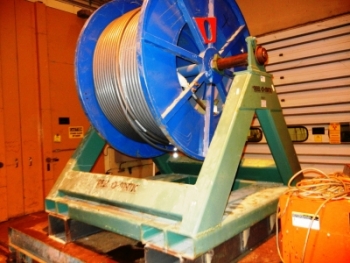 The new wire rope before installation.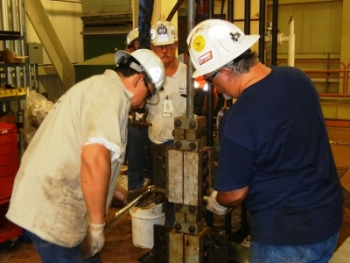 URS Washington TRU Solutions operations and maintenance crews demonstrate exceptional performance to replace a steel rope.
Carlsbad, NM - The effectiveness of the Waste Isolation Pilot Plant's (WIPP) preventive maintenance program paid huge dividends late last month when an issue with a steel rope on the project's waste conveyance was identified during a routine inspection.
Disposal operations at the Carlsbad Field Office (CBFO) WIPP site, near Carlsbad, New Mexico, were halted for eight days as a maintenance team replaced one of six steel ropes used to suspend the waste conveyance, which is used to download defense-generated transuranic (TRU) waste 2,150 feet into the underground repository. Shipments to WIPP were also put on hold during this time period.
Shipments and disposal operations resumed July 27 after a new 2,300-foot-long head rope, weighing more than five tons, was safely installed by maintenance and operations crews ahead of schedule.
"This kind of safe, compliant, and efficient performance is simply outstanding and worthy of emulation in all that we do," said Interim Carlsbad Field Office Manager Ed Ziemianski, praising the maintenance efforts.
The issue was discovered during a routine inspection on July 18, when maintenance technicians observed that one strand of wire on Head Rope #1 was displaced on the coil by about a quarter inch. Head Rope #1 is one of six 1 3/8" diameter steel ropes that suspend the conveyance from the hoist. Each rope consists of 151 interlocking strands of wire. The head ropes undergo weekly visual inspections and semi-annual detailed examinations, during which engineers check the interlocking wires for wear or damage.
Upon discovery of the displaced strand, technicians immediately notified the waste hoist operator, who stopped the operation and placed the hoist in a safe configuration. Shipments and disposal operations were then halted. Waste already at WIPP was placed in temporary storage.
The displacement of a single strand of wire on one of the waste conveyance's six steel ropes did not present a danger to WIPP employees or operations. Each of the steel ropes is capable of supporting the 45-ton design capacity of the conveyance.
"A deliberate approach is what is expected when operating a nuclear facility such as WIPP," Ziemianski said.
URS Washington TRU Solutions (WTS), the WIPP management and operating contractor, maintenance and operations crews worked through the weekend to remove the damaged rope and install a new one.
"Given the rope's lock coil design, if any of the outer wires are displaced, this is a distortion of the rope structure and it must be removed from service according to Mine Safety and Health Administration (MSHA) regulations," noted Bob Kirby, WTS Underground Operations manager.
Kirby said one of the reasons maintenance was completed ahead of schedule was because the team relied on experience gained from replacing a tail rope during last year's maintenance shutdown, and from replacing a head rope in 2003.
"The team we put together did an excellent job, and performed the work safely, compliantly and efficiently. It was an excellent show of teamwork by everyone involved," Kirby said.
During the maintenance effort, WIPP employees continued to use the project's salt conveyance to access the underground. Also, WIPP took advantage of the time period to complete a variety of maintenance activities that were scheduled to take place later in the year, such as transportation package maintenance.
At this time it is not clear how or why the single wire became displaced on the coil.