BWCS employees from all departments of the DUF6 project at the Portsmouth site come together to mark five years without a lost-time accident.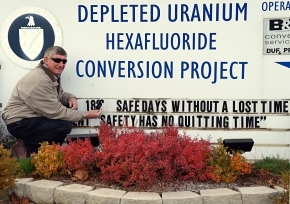 Russ Hall, environment, safety and health supervisor, changes the DUF6 project sign to mark five years without a lost-time accident.
PIKETON, Ohio – The depleted uranium hexafluoride (DUF6) conversion plant at EM's Portsmouth site marked five years without a lost-time accident this month, equating to 1,826 workdays or 1,916,103 work hours.
EM's Portsmouth Paducah Project Office (PPPO) and contractor Babcock & Wilcox Conversion Services LLC (BWCS) are converting the nation's 800,000-metric-ton inventory of DUF6 to more benign forms for sale, ultimate disposal or long-term storage.
"It took every one of our nearly 200 employees five years of concentrating on safety to reach this milestone," said Ken Collier, plant manager. "In complex work with rigorous processes, this is a remarkable achievement. Every single employee deserves credit and recognition."
The plant's sister operation in Paducah, Ky., recently celebrated one year without a lost-time accident.
BWCS is a single purpose company formed by Babcock & Wilcox and URS in 2011. Headquartered in Lexington, Ky., BWCS was created to safely and effectively operate the DUF6 conversion facilities.