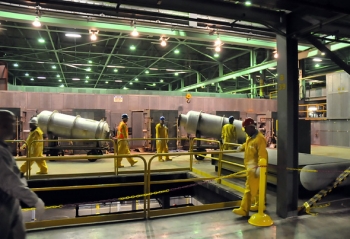 Workers have removed more than 25 percent of the process gas equipment from the X-326 facility since starting that work in 2012. This past year they removed 54 of 200 cells. Once the equipment is removed, the 30-acre building will be ready for demolition.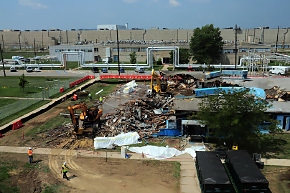 Built in 1953, the PORTS X-102 Cafeteria was a 19,000-square-foot building that served as a gathering spot for employees over the years. Age caught up with the building and it was closed in 2012. Demolition of the structure was completed the week of Aug. 19, eight days ahead of schedule.
PIKETON, Ohio – Decontamination and decommissioning (D&D) of several Cold War uranium enrichment facilities capped a busy year for the EM program at the Portsmouth site. The 3,700-acre reservation includes more than 400 buildings and systems that will be part of cleanup operations to ensure the site is ready for future use.
In 2013, EM and its D&D contractor, Fluor-B&W Portsmouth, safely advanced the project with the removal of more than 25 percent of the process gas equipment from one of three half-mile-long process buildings. Sampling analysis and removal of process gas components have been under way for more than a year in the X-326 high-assay process building. This structure is one of three that house the uranium enrichment cascade, a complex network of pipes, motors, compressors, converters and other equipment used to provide enriched uranium, originally for the Department of Defense and later for the nuclear fuel industry.
Surveillance and maintenance costs were reduced by $13.8 million, or 30 percent, to focus resources on critical D&D activities. In 2013, five former process support structures were removed, including a large coal-fired steam plant and a cafeteria in service nearly 60 years. In all, 100,000 square feet were safely removed with no first-aid or reported safety concerns. The site also recycled 285,000 pounds of metal and 1,000 tons of coal.