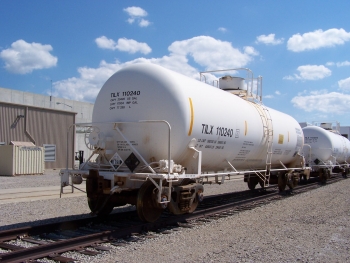 Pictured here are railcars carrying tanks of hydrofluoric acid for shipment from the Portsmouth site to Solvay Fluorides for industrial use.
LEXINGTON, Ky. – The company that operates DOE's depleted uranium hexafluoride (DUF6) conversion facilities marked a milestone in September when it shipped the one millionth gallon of hydrofluoric acid.
Babcock & Wilcox Conversion Services (BWCS) continues to deliver more of the acid to Solvay Fluorides for industrial use through a contract with DOE. Sales of the solution return revenues to DOE and provide an economic benefit to the agency and American taxpayers.
The acid is a product of the conversion of DUF6 to a more stable form for ultimate disposal. DOE constructed two plants to convert the nation's inventory of DUF6, a residual product of the nation's uranium enrichment programs at the gaseous diffusion plants in Paducah, Ky. and Portsmouth, Ohio. More than half of the one million gallons were shipped from the conversion facility in Portsmouth, and the remainder came from the one in Paducah.
BWCS recently announced the operation of all seven conversion lines at both plants for the first time. The plants have been in startup mode and partial conversion operations since they began ramping up in fiscal year 2012. DOE's strategy is to bring the plants to full potential throughput in the year ahead. The Paducah and Portsmouth sites together have more than 780,000 metric tons of DUF6 to convert.
"Ultimately, we will be shipping several million gallons of hydrofluoric acid a year and generating millions in long-term revenues," said Jack Zimmerman, the DOE project manager at the Portsmouth/Paducah Project Office. "This income will result in substantial reductions in disposition costs for the hydrofluoric acid and allows us to recycle an important industrial product at the same time we clean up the nation's legacy of uranium enrichment."
George E. Dials, BWCS president and project manager, said: "We are delighted that we're at a stage where the numbers are starting to add up and there is a real return on investment to the American taxpayer. With all seven lines operating, we expect to have the plants operating at optimal capacity within the next fiscal year."
The plants were designed to operate for 25 years or more to convert the extensive inventory.