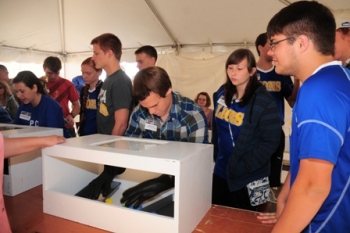 Students participating in the Science Alliance enjoyed hands-on exhibits and discussions with scientists, engineers and specialists in a range of fields.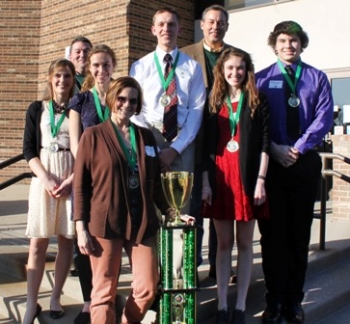 Zane Trace High School claimed the trophy and an all-expense paid trip to the National Science Bowl in Washington, D.C. Team members standing behind coach Nancy Robertson are, from left, Emily Joosse, Jessica Proehl, Tyler Moore, Kasandra Dalton, and Beau Bilek. The team is pictured with Greg Simonton (back left), South Central Ohio Regional Coordinator for EM, and Joel Bradburne (back right), Portsmouth Site Lead for EM.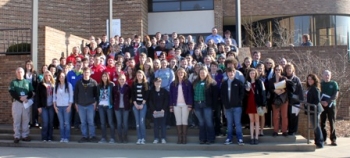 Coaches, students and volunteers paused for a group photo outside Clark Memorial Library before the Science Bowl competition began. More than 100 students from 13 area high schools converged on the campus of Shawnee State University in Portsmouth for the inaugural event hosted by DOE.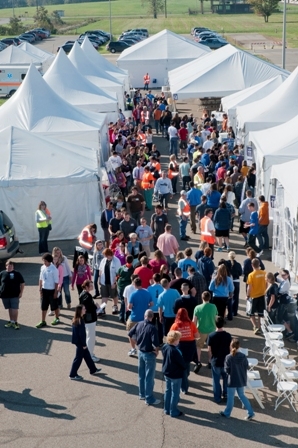 More than a thousand students from 23 area schools attended the three-day Science Alliance Oct. 1-3 at the Portsmouth site.
PIKETON, Ohio – Educational outreach efforts at the Portsmouth Gaseous Diffusion Plant in southern Ohio are making a positive and significant impact on youth in the area surrounding the site.
The 3,700-acre reservation rests in Ohio's Appalachian region in Pike County, where the unemployment rate is among the state's highest. In a region where educational attainment and the median income lag well behind state and national averages, outreach efforts at Portsmouth are paramount.
"We believe the work we are doing here is changing the lives of young people," said Greg Simonton, who heads EM public outreach initiatives at Portsmouth. "These are not programs that are simply good public relations or photo ops. These are dynamic efforts that make our area's high school students understand what is possible in their lives. These experiences become kitchen table discussion topics, therefore the impacts are immeasurable." 
The site received statewide recognition from the Ohio School Boards Association (OSBA) in 2012 when Portsmouth Site Director Dr. Vincent Adams received the prestigious OSBA President's Award — that body's highest distinction for contributions to education — for the site's extensive outreach program.
The staple of Portsmouth's educational outreach is the annual Science Alliance, a three-day science fair that brings government, education, regulators and private entities together in a science, technology, engineering and math (STEM)-focused program that allows students to interact with various professionals. The popularity of the event has grown, as evidenced by a steady increase in student participation, with the 2013 version drawing about 1,200 students and educators from 23 high schools.
Interactive demonstration stations allow students to learn about topics such as biology, groundwater monitoring, recycling, innovation, geology and emergency management. Simonton said it allows students to become educated on plant history and the role it played during the Cold War. Students also learn how to turn STEM-related topics into careers. 
Kyle Exline, an educator at Wellston High School in Wellston said the event was an eye-opening experience for his students.
"One of my favorite things was that nearly every station discussed careers and the diverse employment opportunities available. Many of our students are never exposed to life outside of their town and what they see around them. Many of them have no desire to leave this area due to family connections or they believe they will never have the financial means to move," he said. "It was so great for them to see that there are current careers and likely future opportunities for them in their own backyard. So many times, kids get caught up in what they know — doctor, lawyer, secretary, cashier, nurse, teacher — that they don't even realize the plethora of careers available to them in today's workforce."
Simonton, a Pike County native who understands the challenges some of the region's students have to face, said that giving students new perspectives is what the Science Alliance is all about.
"The students who come through our gates go from one end of the socioeconomic spectrum to the other. Going to college seems like a world away to some of our kids, but we change their paradigms. We show them the STEM-related fields that might be of interest to them, we show them the careers that can be associated, we show them the educational tools they need and we give them information on the regional universities that offer those programs," said Simonton, who added the event is often the students' first visit to the site that is so prevalent in the region's economy. "These kids receive advice from professionals in the field and that leads to opportunities as well as paving the way for a more informed group of future stakeholders. We try to show them the path to a successful future and it also helps meet the nation's need for more scientists and engineers."
Simonton credits the Portsmouth/Paducah Project Office (PPPO) leadership's support of the program for its growing success.
"Bill Murphie (PPPO Manager), Dr. Adams and Joel Bradburne (Portsmouth Site Lead) have been instrumental in the success of our educational outreach program," Simonton said. "They understand the importance of these efforts and recognize the impacts of these events. What we do would simply not be possible without their support."
Besides the Science Alliance, Portsmouth is also a regional Science Bowl host, conducting the inaugural South Central Ohio Regional Science Bowl in March 2012. By establishing Portsmouth as a regional host, Simonton said some of the region's brightest students now have an opportunity to compete on the national stage. 
Simonton chaperoned the winning team from Zane Trace High School in 2012, with some of the team members taking their first flight and seeing the nation's capital for the first time. DOE created the National Science Bowl in 1991 and more than 200,000 students nationwide have participated in the competition in its 23-year history. It is the nation's largest science competition. 
"These kids had the experience of a lifetime," Simonton said. "It was the first time being in an airplane for a couple of our students. They got to see national landmarks and had a first-rate educational experience. This is the untold story about the Science Bowl, that it can broaden horizons for young people."
DOE also partners with regional universities and high schools on Portsmouth projects related to environmental management, future land use, business development and cultural resources. Among those efforts is a program in which regional high school students work with Ohio University to take the Portsmouth Annual Site Environmental Report and compile a summary, complete with their artwork and distribute it to the community. DOE representatives also make routine visits to universities and high schools to inform students on plant activities and other developments.
 
As with their sister Portsmouth Gaseous Diffusion Plant, employees and contractors at the Paducah site will also support their local students at the West Kentucky Regional Science Bowl in February. Over the next two months, more than 9,500 high school students and 4,500 middle school students nationwide will compete in 70 high school and 50 middle school regional tournaments for a spot in the National Science Bowl in Washington, D.C., April 24 to 28. More information is available here.
DOE's emphasis on community engagement has fostered a culture of openness and trust between DOE and the community, Dr. Adams said.
"That does not happen by accident," Dr. Adams said. "Good public outreach is difficult, but Bill Murphie has devoted the necessary resources for us to enjoy a quality public outreach program. We are now seeing the benefits of this public engagement and we are seeing how it makes a difference in the community we serve."