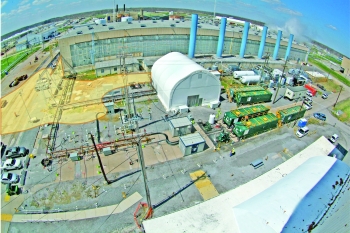 The yellow outline depicts an area southeast of the C-400 Cleaning Building, background, where electrical resistance heating will be used to remove trichloroethene (TCE) down to 60 feet below ground. Electrodes will heat the chemical into a vapor that can be pumped to the surface and treated in the white structure, center.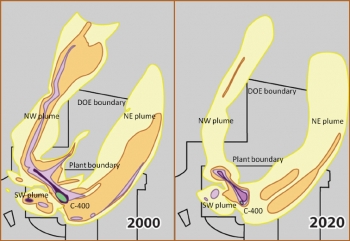 Computer modeling depicts how improved pumping and treating will lessen the presence of TCE in the aquifer at the Paducah Site through 2020. The tiny green oval near a cleaning building in the middle of the site shows heaviest concentrations of TCE. Next-highest concentrations are shown respectively in dark and light purple, and dark yellow. Light yellow depicts areas where TCE concentrations are above federal drinking water standards.
PADUCAH, Ky. – A multifaceted approach and focused application of technologies are paying dividends toward cleaning up about 2,100 acres of groundwater extending northeasterly from the Paducah site.
Past disposal practices and releases of the degreaser trichloroethene (TCE) due to spills and leaks have resulted in the formation of three main plumes of contaminated groundwater. The two largest plumes extend in a horseshoe configuration toward the Ohio River.
Since the contamination was discovered in a few residential wells north of the plant in 1988, the Department has provided city water to affected or potentially affected properties. Ninety-one homes and businesses currently receive city water.
TCE is one of the nation's most prevalent groundwater contaminants, present in one-third to one-half of all Superfund sites, according to the National Institutes of Health. DOE banned the use of TCE at the Paducah plant in 1993.
Paducah is among the nation's Superfund sites, which the U.S. Environmental Protection Agency prioritizes for cleanup of hazardous waste that could affect local ecosystems or people.
Pump-and-treat systems northwest and northeast of the site have cleansed nearly 3 billion gallons of groundwater since the mid-1990s. Two new wells in 2010 greatly increased the capture rate of TCE in the northwest plume to nearly 100 percent. Later this year, DOE cleanup contractor LATA Environmental Services of Kentucky will start designing a similar pump-and-treat system to optimize TCE removal in the northeast plume, with implementation planned for 2013.
"We believe that optimizing the existing pump-and-treat systems, which capture the chief sources of off-site groundwater contamination, will result in continued dissipation of the plumes through 2020 and beyond," said Reinhard Knerr, DOE Paducah Site Lead.
 
Past leaks and spills of TCE at an equipment cleaning building in the center of the site are the chief source of groundwater contamination. In 2010, electrical resistance heating (ERH) helped evaporate and remove TCE from as deep as 60 feet below ground in areas southwest and east of the building. By late September, LATA Kentucky will start installing an ERH system to remove TCE from as deep as 60 feet, southeast of the building.
The 2010 project showed that ERH did not reach target temperatures to remove TCE from the deeper aquifer, 60 to 100 feet below ground near the cleaning building. Pending regulatory approval, LATA Kentucky anticipates starting work in 2014 on a chemical-treatment system to remove TCE from the deeper aquifer.
A third area of groundwater contamination, known as the southwest plume, is largely confined to the plant's southwestern fenced area. The primary source is a 2.2-acre oil landfarm, where waste oils containing TCE were biodegraded from 1973 to 1979 using lime and fertilizer.
Starting in July, large-diameter augers will be used with steam to mix the soil and evaporate TCE for treatment using activated carbon. Reactive iron will also be injected into the ground during mixing in areas requiring secondary treatment. Soil mixing will be performed as deep as 50 feet.
 
Additional testing this summer will determine whether bioremediation or long-term monitoring will be implemented for two other sites of southwest plume contamination. Those sites, northeast and southeast of a large maintenance building, have TCE contamination in the upper 50 feet of soil.