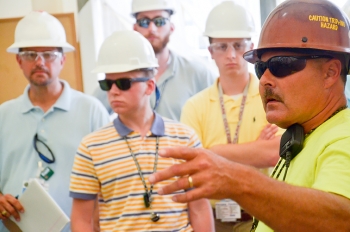 LATA Kentucky groundwater cleanup site superintendent Donnie Bell, far right, describes the project to (from left) Steve Christmas of LATA Kentucky and interns Weston Loyd, Matthew Jehnke, and Wesley Morgan.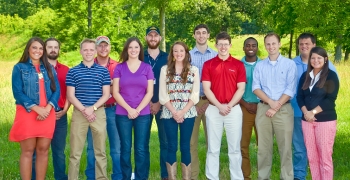 Paducah site interns, from left, Mallie Myers, David Veach, Weston Loyd, Cody Barnes, Michaela Jones, Matthew Jehnke, Cassee Layne, Cameron Conte, Logan Warriner, Devin Dorrough, Wesley Morgan, Zane Smithson, and Lauren Shaw.
PADUCAH, Ky. – Thirteen college students took a break from the books to participate in a summer internship program hosted by LATA Environmental Services of Kentucky, the cleanup contractor at EM's Paducah site.
   The students, who connected classroom topics with real world experience, came from the University of Kentucky (UK), the UK College of Engineering-Paducah, and Murray State, Western Kentucky, Ohio State, and Michigan State universities.
   Jennifer Woodard, EM Portsmouth/Paducah Project Office (PPPO) Paducah Site Lead, spoke to the interns at weekly mentor presentation meetings. The interns are pursuing careers in engineering, business, information systems, and health and safety. Woodard told the group about her education and career background that positioned her for her current role. 
   "The Department has a lot of opportunities across the nation. On USAjobs.gov you can see all of the open positions with the federal government. The opportunities are vast," Woodard said. "Even though you are doing your internship in the cleanup world, it is an experience that lends itself to some very interesting jobs across the nation."
   The 10-week internship, which ended in August, was an opportunity for interns to receive hands-on experience and a realistic perspective of these types of jobs. Students worked directly with LATA Kentucky personnel and interfaced with engineers, project managers, and leaders in the business office, regulatory department, and operations department. The internship was customized for each intern because of the uniqueness of each department and the dynamic nature of projects. 
   "Working under a project manager of a government contractor is very different from anything else I've experienced before," said Logan Warriner of Paducah, a UK-Paducah senior. "I was immersed in the administrative and managerial aspect of engineering, something completely new and exciting that I've never seen before in school or at other internships."
   Interns benefited from familiarizing themselves with the site and participated in weekly presentations prepared by experts in groundwater, waste disposal alternatives, waste disposition, environmental monitoring, and document production. 
   "I was so impressed with the interns, their professionalism and ability to dive into such complex projects," said Elizabeth Wyatt, waste disposal alternatives project manager for LATA Kentucky. "They were eager to learn and blew me away by how quickly they were able to jump in and help out. It was a great summer."