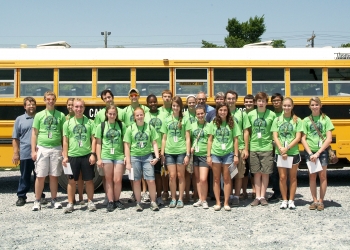 Kentucky Governor's Scholars pose before boarding a bus during their Paducah site visit this summer.
PADUCAH, Ky. – Nineteen of Kentucky's brightest teenagers visited the Paducah site this summer to learn more about environmental cleanup and waste management.
"We're here exploring what we do with the waste we produce," said Melanie Kidwell, a faculty member of the Kentucky Governor's Scholars Program.
Representatives of DOE cleanup contractor LATA Kentucky led the group in a presentation and discussion about the site. Scholars then took a bus tour of current and past cleanup projects, and learned how large amounts of waste are handled.
The Paducah site tour came three days before the five-week scholars program ended. Kidwell said the group previously visited a wastewater treatment plant, landfill, recycling center, Barkley Dam and Murray State University's Pullen Farm and sustainable garden.
Governor's Scholars is a summer residential program for outstanding high school students in Kentucky who are entering their senior year. It originated in 1983 as a result of Kentucky leaders' concern that the state's "best and brightest" young people were leaving the state to pursue educational and career opportunities elsewhere without fully understanding the potential of their talents at home, according to the Governor's Scholars website. The mission is to enhance Kentucky's next generation of civic and economic leaders.
Scholars replace textbooks with hands-on learning, said scholar Michael Kimble of Elizabethtown. "It's an interesting style of learning because it's not a set curriculum." 
Kimble said the Paducah Site visit afforded better understanding of his two focus areas of earth-related matters and public-private partnerships.
LATA Kentucky's Kelly Layne and Sam Leone, who helped with the tour, have parental interest in the scholars program. Layne's son, Conner, who attends Paducah Tilghman High School, is a scholar. Leone's daughter, Sharon, who will be a junior at Western Kentucky University, is a resident assistant for the program and was a scholar in 2009.