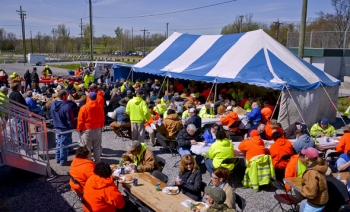 Employees celebrate surpassing 2.5 million hours without lost workday cases over the past 3½ years.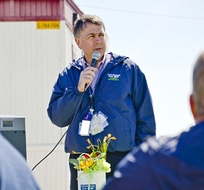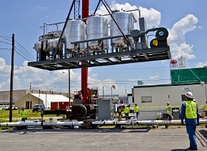 Employees lower a carbon treatment system into place to remove groundwater contamination from near an equipment cleaning building in the middle of the Paducah site.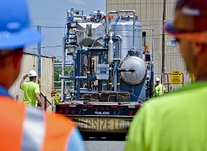 Employees position the carbon treatment system on the ground.
PADUCAH, Ky. – This month, EM's cleanup contractor at the Paducah site celebrated surpassing 2.5 million work hours without lost workdays resulting from job-related injury or illness.
The milestone 2.5 million hours without lost workday cases as defined by the Occupational Safety and Health Administration were recorded during 3½ years of facility demolition and environmental cleanup.
"This is a significant accomplishment because much of the project work involves complex operations and handling of hazardous materials," said Rachel Blumenfeld of EM's Paducah Site Office.
"We could not have achieved this most auspicious milestone without having the steadfast commitment to safety by our workforce," said LATA Kentucky Environment, Safety, and Health Manager Dave Kent. "Our employees carefully plan and execute the work. And for doing so, they receive the ultimate payoff, being able to go home to their families the same way they arrived — free of occupational injury and illness."
Cleanup of hazardous materials at the site is performed by members of United Steelworkers (USW) Union Local 550. Highly skilled USW workers perform work safely and efficiently by strictly adhering to procedures.
"Our success has been tied to the questioning attitude of our workers, a trait that is inherent to an organization with a strong safety culture," said Mark Duff, LATA Kentucky project manager.
Key accomplishments during the past 3½ years include:
Razing the eastern third of an inactive facility where workers once produced uranium hexafluoride. The rest of the building is currently undergoing demolition.
Demolishing a seven-story inactive facility — the tallest building at the plant — formerly used to manufacture uranium metal.
Building and operating a system to remove the degreasing agent trichloroethene from the ground near an equipment cleaning building that is the plant's leading source of groundwater contamination.
Drilling and testing for contamination within one of the plant's old burial grounds as part of determining a cleanup remedy.
In 2012, LATA Kentucky won the Governor's Health and Safety Award, the highest safety-related honor given by the state.