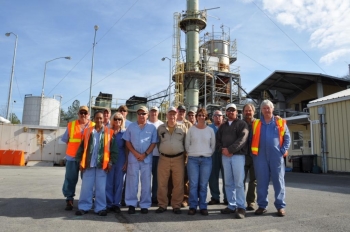 Members of the team that helped safely close the Toxic Substances Control Act Incinerator at Oak Ridge gather for a photo. The team is from URS|CH2M, Oak Ridge, the prime contractor for the Oak Ridge Office of Environmental Management.
OAK RIDGE, Tenn. – Oak Ridge's East Tennessee Technology Park (ETTP) is home to many unique facilities, each constructed for a specific purpose. Today, almost all of the facilities at the site are in the process of being safely cleaned, shut down and removed.
Recently, the Department of Energy's (DOE) Oak Ridge Office of Environmental Management (EM) and its prime contractor URS|CH2M, Oak Ridge (UCOR), completed the safe shutdown of one of its most unique facilities: the Toxic Substances Control Act (TSCA) Incinerator. The law for which the incinerator is named was passed by Congress in 1976 and addresses the production, importation, use, and disposal of specific chemicals, including polychlorinated biphenyls (PCBs).
The TSCA incinerator began operations in 1991, when it was the only facility in the nation capable of incinerating hazardous and radioactive wastes containing PCBs. The facility's capabilities were in high demand due to waste streams from DOE sites nationwide. During its 19 years of operation, it burned 35 million pounds of liquid and solid waste. While other incinerators could burn radioactive and hazardous waste, Oak Ridge's facility was the only one that could burn hazardous, radioactive waste containing PCBs. The TSCA incinerator was permamently shut down in December 2009, and closure-related field activities began shortly thereafter. 
UCOR Project Manager Mary Magleby said the facility is now in a safe shutdown mode after rinsing, closure and stabilization activities were completed. All field work is complete, and the final boxes of waste from the cleanup shipped. Currently, the facility is being safely maintained until funding is available for deactivation and demolition.
All chemicals have been removed from the facility, and components such as piping and pumps were either triple-rinsed or removed. Additionally, all Resource Conservation and Recovery Act (RCRA) closure required actions have been completed, helping the site achieve its regulatory commitments. That accomplishment followed a challenging process that lasted several years because the facility processed PCBs and hazardous waste regulated under RCRA, requiring DOE to meet strict closure standards.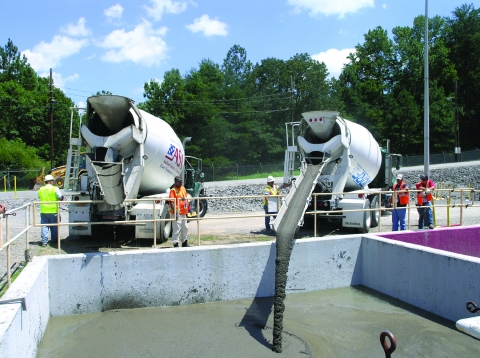 As part of the process to safely shut down the Toxic Substances Control Act Incinerator at Oak Ridge, the facility's sumps, which are 10-foot-deep pits, were cleaned and filled with concrete.
Equipment and areas within the facility were decontaminated, and fixatives were applied to exposed areas to ensure contaminants remain in place. Employees sampled rainwater in the area to ensure it met release criteria. In addition, the facility's sumps, which are 10-foot-deep pits, were cleaned and filled with concrete. These actions allowed DOE to meet ETTP's final site closure criteria and ensure no further work is necessary for these areas in the future.
The incinerator's safe closure and shutdown allows the EM program in Oak Ridge to move closer to a remediated ETTP site that can be converted into a privately owned and operated industrial park.