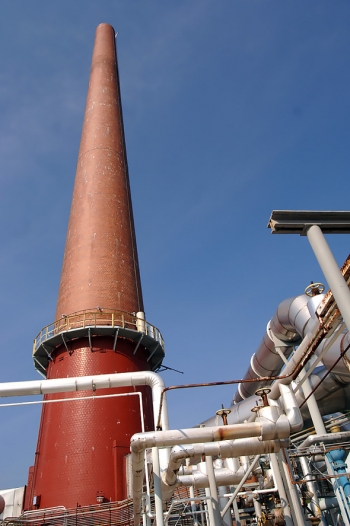 EM deactivated one of five ventilation branches that led to stack 3039. The ventilation branches are connected to numerous facilities throughout ORNL's central campus.
OAK RIDGE, Tenn. – Workers recently completed the Building 4500 Stack Removal Project, one of the Oak Ridge EM program's final cleanup projects funded by the American Recovery and Reinvestment Act. The project separated six facilities from an old ventilation system that connects to a large stack, or chimney-like structure, within Oak Ridge's National Laboratory's (ORNL) central campus.
On July 4, 2002, Oak Ridge's managers received a call that one of the stacks within ORNL had released strontium, a hazardous contaminant. Fortunately, due to the holiday, employees were not at their usual work locations. This sole incident, although extremely rare, raised awareness about the need to begin cleaning and eliminating potential risks from the renowned science and research location.
Now, the laboratory is cleaner thanks to the efforts of the EM program, and it serves as a thriving center for some of the world's most advanced research and technology. The Recovery Act funded projects that removed the largest source of groundwater contamination and more than 40 excess and contaminated facilities within ORNL. The Building 4500 Stack Removal Project improved safety by eliminating the possibility of release from numerous facilities through the onsite stack.
"The Building 4500 Stack Removal Project is a crucial element in our strategy to eliminate risks at ORNL," said Mark Whitney, Oak Ridge's EM manager. "It was not as visible as some of our other projects, but its impact is substantial. Employees are arriving at a safer, cleaner campus to conduct their advanced research."
The project's main objective was to deactivate a ventilation branch connected to ORNL's central gaseous waste system. Ventilation branches, which are connected to numerous facilities throughout ORNL's central campus, converge to a major stack located within the central campus area. This stack is capable of potentially releasing material that could negatively impact employees, infrastructure and research investments.
Workers successfully completed the 18-month project under its $12.7 million budget. By deactivating the Building 4500 area segment from the central gaseous waste system, EM reduced the risk of accidental release of airborne pollutants and other risks by stabilizing leaking ductwork and ventilation systems for facility hot cells. The project included installation of new local ventilation systems in Buildings 4501, 4505, 4507 and 4500 North. In addition, employees stabilized two filter pits and hot cells in Building 4507 and addressed more than 1,500 feet of contaminated underground ductwork.
Oak Ridge received $755 million from the Recovery Act for environmental cleanup. The Building 4500 Stack Removal Project was a second-phase Recovery Act project funded using a portion of the $110 million leftover from projects completed below initial estimates.