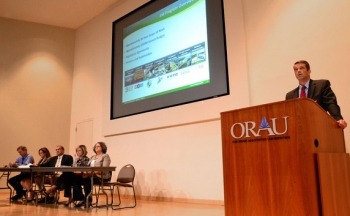 Oak Ridge's EM leadership informed members of the public about projects and goals and answered questions during a public workshop this week.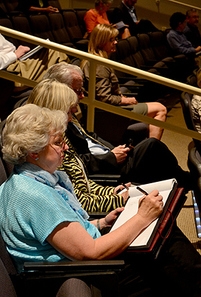 Local residents and other stakeholders listen to Oak Ridge's EM senior leadership in a public workshop to learn about EM and provide input about future mission work.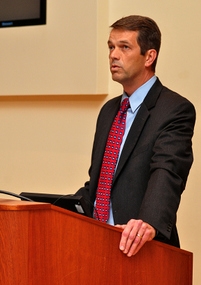 Oak Ridge EM Manager Mark Whitney addresses participants on EM's mission and priorities.
OAK RIDGE, Tenn. – Oak Ridge's EM office held a public meeting this week to discuss the program's upcoming budget and cleanup priorities.
EM senior leadership from Oak Ridge talked about EM progress at the three cleanup sites and solicited feedback from local residents and other stakeholders.
In its third year, the meeting is one of the EM program's primary channels to collect stakeholder input before submitting the budget request and priorities for the upcoming year.
Mark Whitney, Oak Ridge's EM manager, opened the event by sharing an overview of the local EM program and the office's near-term goals that guide decision-making.
"As taxpayer stewards, I think holding these public meetings is a responsible practice that increases transparency and explains our decision process," Whitney said. "These meetings also provide a forum for residents and stakeholders to voice their opinions, suggestions and concerns about our vision."
The workshop also featured presentations from Oak Ridge's cleanup portfolio managers for the three sites — East Tennessee Technology Park, Oak Ridge National Laboratory, and Y-12 National Security Complex. A public comment period followed.