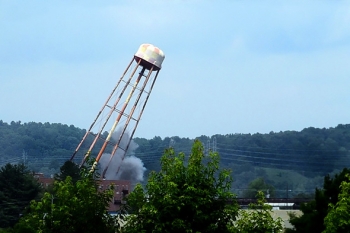 Oak Ridge's K-1206 F Fire Water Tower falls into an empty field during a recent demolition project.
OAK RIDGE, Tenn. – Oak Ridge's EM program recently demolished one of the most iconic structures at the East Tennessee Technology Park (ETTP). The 382-foot checkerboard water tower — the tallest in North America — dominated the site's skyline since its construction in 1958.
The K-1206 F Fire Water Tower operated as part of the site's fire protection system, but it was drained, disconnected and permanently taken out of service on July 15. The project involved the EM program, prime cleanup contractor URS | CH2M Oak Ridge (UCOR), and subcontractors Veterans Contracting Services Group and Controlled Demolition Inc. Together, workers safely brought down the tower using controlled explosive demolition that sent the structure toppling into an empty field.
Without the 400,000-gallon tower, the site now relies on pumping stations to provide the necessary pressure for its fire water system. DOE will eventually transfer the system to the city of Oak Ridge, which marks another step forward in the federal agency's goal to convert ETTP into a private sector industrial park.
"Removing this water tower is a significant, and very visible, step in cleaning up ETTP," said Jim Kopotic, federal project director for the site. "Many people have worked countless hours to safely bring down this historic tower, which was one of the most visible and identifiable structures at the site. This demolition marks another major advancement in the transformation of ETTP."
The tower deteriorated over the years, and after an engineering assessment conducted in 1994, EM added the structure to the list of facilities scheduled for demolition. Although it was not originally scheduled to be removed this year, DOE and UCOR accelerated the demolition schedule due to the tower's continuing deterioration.
"The skyline at ETTP is forever changed with the demolition of the water tower," said Bob Smith, technical services and site support projects manager. "We are pleased that we were able to safely and expeditiously bring down this massive structure, accomplishing another major cleanup milestone at the site. This demolition project is emblematic of the cleanup and reindustrialization of the ETTP site."