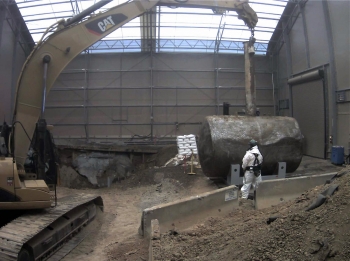 Workers remove the 4,000-gallon Tank W-1A, which was ORNL's greatest source of groundwater contamination.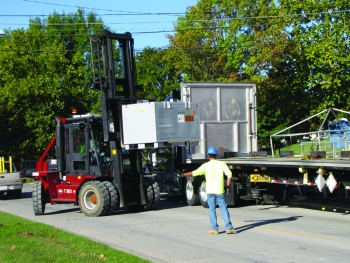 Workers load boxes containing contaminated soil that surrounded Tank W-1A.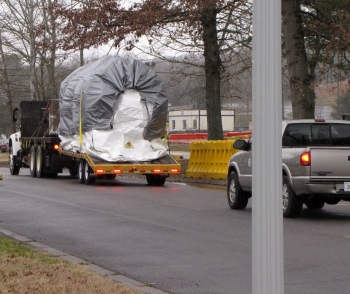 The 6,500-pound Tank W-1A is shipped away from ORNL.
OAK RIDGE, Tenn. – This month, Oak Ridge's EM program bid farewell to the last shipment of waste from the Tank W-1A project.
When operational, the former waste storage tank slowly leaked its contents, becoming the Oak Ridge National Laboratory's (ORNL) greatest source of groundwater contamination. The high-priority EM cleanup project involved extensive characterization, removal of contaminated soil and excavation of the 4,000-gallon stainless steel tank.
"The completion of the Tank W-1A project is a significant sign to regulators about the importance and attention we are placing on soil and groundwater contamination removal," said Sue Cange, acting assistant manager for EM. "These measures also encourage future investment and expansion at one of our nation's most important research centers."
Tank W-1A was commissioned in 1951 to collect and store liquid waste from radiochemical separations and high-radiation analytical facilities at ORNL. During its operation, a transfer line to the tank was suspected of leaking near the tank intake, causing significant soil and groundwater contamination in the vicinity of the tank. It was emptied and removed from service in 1986 after the leak was discovered. In 1995, a system was installed to pump and treat the groundwater plume that originated from the tank, helping lessen environmental impacts to the groundwater.
 
In September 2011, Oak Ridge's prime cleanup contractor, URS | CH2M Oak Ridge (UCOR), launched the project's $19.5 million final phase. In January, workers excavated the 6,500-pound tank buried 10 feet below ground. In addition to removing the tank, workers shipped hundreds of boxes of contaminated soil and other materials associated with the tank offsite for disposal.
"I want to congratulate the managers and workers on the project for a job well done," said Leo Sain, UCOR president and project manager. "Tank removal and subsequent handling and shipping required the utmost care and skill, and all those who worked on the project deserve our thanks for doing this work safely and efficiently,"
After the tank's removal and size reduction, workers excavated the remainder of the contaminated soil and backfilled the cleanup site with grout, gravel and clean soil.
The project was completed in accordance with the Tennessee Department of Environment and Conservation and the U.S. Environmental Protection Agency's milestone.