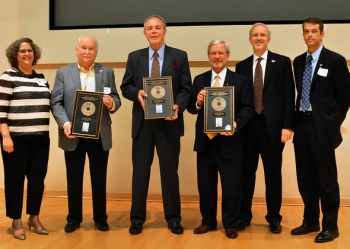 Oak Ridge Office (ORO) of EM Deputy Manager Sue Cange, left to right, former ORO Manager Jim Hall, former ORO Manager Joe LaGrone, former ORO Manager Gerald Boyd, EM Senior Advisor Dave Huizenga and ORO EM Manager Mark Whitney take the stage after the showing of "30 Years in 30 Minutes."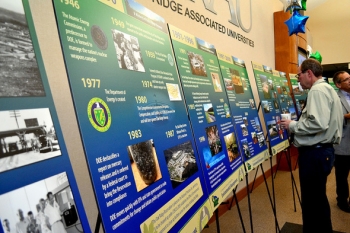 Displays at the event provide timelines and accomplishments of Oak Ridge's EM program.
OAK RIDGE, Tenn. – Oak Ridge's EM program hosted an event this month that documented the site's environmental cleanup efforts since 1983, six years before the official founding of the Department's EM.
The collaborative event attracted local residents, current and former employees, government officials and state and federal lawmakers.
Displays, presentations and a 30-minute video provided an extensive history of Oak Ridge's cleanup program. For the video, crews interviewed three former Oak Ridge Office managers — Joe LaGrone, Jim Hall and Gerald Boyd — to share insight into the genesis, challenges and decision-making in Oak Ridge's EM program. The former managers chronicled their tenure and discussed different phases of the local EM program's transformation and strategy. They speak about 30 years of cleanup in Oak Ridge, providing context on the need for DOE's national EM program.
In the video, LaGrone discusses the cooperative model Oak Ridge created to promote transparency and environmental leadership. Local DOE leaders began meeting with the State of Tennessee and the U.S. Environmental Protection Agency to discuss priorities and develop a path forward for environmental concerns. This model was later adopted by DOE nationally.
Hall discusses his response to budgetary challenges that arose in 1995. To continue cleanup, he proposed the idea of reindustrialization to address the site's $1 billion budget reduction. This initiative gained support throughout the DOE complex. It has expanded into a national program now known as the Asset Revitalization Initiative (ARI). 
In 2002, Boyd began advocating efforts to accelerate closure. He recognized the need for a comprehensive plan that included all of the scope required to finish Oak Ridge's remaining cleanup. This task provided a blueprint to guide planning and cleanup at the three main cleanup sites — the Oak Ridge National Laboratory, Y-12 National Security Complex and East Tennessee Technology Park.
The video, titled "30 Years in 30 Minutes," shares Oak Ridge's history, leadership and vision that led to today's EM. These accomplishments were recorded and celebrated to educate new employees, remind current employees and commemorate the achievements of former employees. The footage shows what is possible through driven leadership, unified vision and collaborative relationships among the federal government, contractors, the business community, municipalities and citizens.
The video also serves as a reminder about the important environmental cleanup needs in Oak Ridge and sites across the EM complex. It provides focus and encouragement to EM employees to maintain their resolve and remember that their efforts are enhancing safety and the environment for future generations.