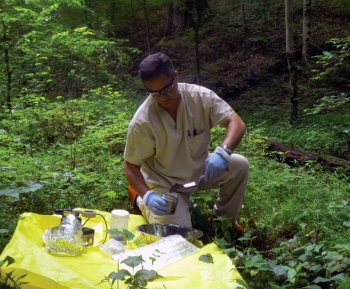 Environmental sampling helps identify which reservation locations are not contaminated.
OAK RIDGE, Tenn. – EM is refining the picture of uncontaminated areas within the 33,500-acre Oak Ridge Reservation through a review of historic documents and extensive sampling, analysis and characterization. The EM program has verified thousands of acres are not contaminated, or otherwise meet existing regulatory standards, and therefore do not require cleanup, creating possibilities for future mission work and economic development.
"This project clarifies our future environmental cleanup needs within the Oak Ridge Reservation," Oak Ridge's EM Manager Mark Whitney said. "Our efforts confirm that a large percentage of our site does not require cleanup, and we can focus our planning, energy and resources on the identified contamination areas."
Beginning in 2008, the EM program began sampling and characterizing 21,000 acres surrounding the East Tennessee Technology Park (ETTP), the Oak Ridge National Laboratory (ORNL) and Y-12 National Security Complex (Y-12).
Last month, EM completed the first Environmental Baseline Survey Report that confirmed five parcels totaling 4,600 acres around ETTP are not contaminated, or otherwise meet existing regulatory standards, and therefore do not require cleanup.
This summer, EM expects to complete the second Environmental Baseline Survey Report addressing 14 parcels totaling 15,500 acres around ORNL and Y-12. A total of 19,300 acres could be approved as requiring no further investigation, improving Oak Ridge's image and opening land for potential use or reuse.
A majority of the parcels were never involved in process-related activities, but also were not formally classified as uncontaminated or deemed as requiring no further investigation by the U.S. Environmental Protection Agency (EPA). The validation allows that land to be removed from the Federal Facility Agreement's list of areas to address. EM collaborated on the project with the EPA and the Tennessee Department of Environment and Conservation.
The program contracted Oak Ridge Associated Universities to complete verification activities. Workers analyzed 102 surface water samples, 80 soil and sediment samples and nine groundwater samples. They also surveyed soil at 203 grid points in an area identified as potentially contaminated.