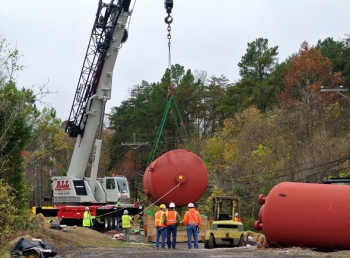 Workers recently removed five large mercury-contaminated tanks from Y-12.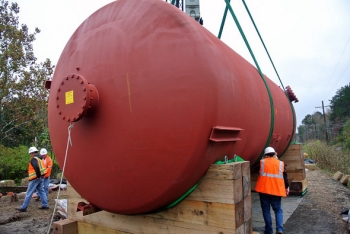 Removing these tanks is part of the steps to reduce potential risk from mercury at Y-12.
OAK RIDGE, Tenn. – Oak Ridge's EM program is making significant progress to reduce environmental mercury releases from the Y-12 National Security Complex.
Mercury is one of the greatest environmental concerns facing the Oak Ridge Reservation and its local EM program, and work is underway to safely address it.
EM recently completed five mercury projects that removed inactive mercury tanks, removed elemental mercury from a storm sewer, eliminated pathways for mercury migration, established the conceptual design for a new mercury treatment facility and evaluated more cost-effective mercury disposition methods.
B&W, the Y-12 management and operating contractor, and URS | CH2M Oak Ridge, LLC (UCOR), the EM cleanup contractor, completed the work with approximately $30 million from the American Recovery and Reinvestment Act.
A large portion of Y-12 rests on soil and groundwater contaminated with mercury that derived from Cold War operations.
"Completing these projects is an important step toward confronting Y-12's mercury contamination," Oak Ridge EM Manager Mark Whitney said. "We are developing a comprehensive strategy, including near-term and long-term actions to address the mercury challenge. Our near-term focus is to develop a water-treatment capability to reduce current mercury discharges and to help control mercury mobilization during future demolition and remediation activities, which are at the core of our long-term plan."
Employees completed the conceptual design of a mercury water treatment facility that will treat stormwater effluent from Outfall 200, which is the largest source of mercury to Upper East Fork Poplar Creek. Sampling, characterization and bench-scale water treatability studies were performed to support the design.
Elemental mercury was removed from nine storm sewer manholes by installing engineered traps to facilitate mercury collection before it enters the creek. Employees diverted water from mercury-contaminated areas at two former mercury-use buildings, Alpha 5 and Alpha 4, eliminating secondary pathways for mercury migration to groundwater.
Five large mercury-contaminated tanks were removed. They posed a human health concern due to mercury vapors from the various tank openings. When the tanks were emptied and inspected, employees discovered approximately 650 pounds of elemental mercury.
Methods for treating mercury-contaminated soils were assessed. Soils were excavated from the site and sent to three vendors to study. The goal is to stabilize mercury within the soils so it can meet the waste acceptance criteria for the onsite disposal cell, which significantly reduces cleanup costs. The study provided nine stabilization technologies for potential application to the Y-12 site soils.