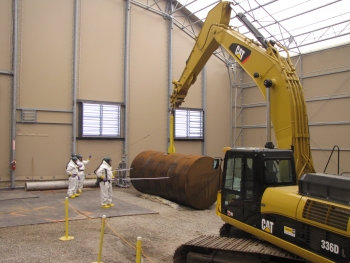 Employees receive training to remove Tank W-1A. From 1951 until 1986, the tank collected and stored liquid waste from radiochemical separations and high-radiation facilities at Oak Ridge National Laboratory, until significant levels of soil and groundwater contamination were traced to the vessel.
OAK RIDGE, Tenn. – Safety has long been a cornerstone of Oak Ridge's operations, from conducting advanced research to removing dilapidated structures and transporting radioactive waste.
Oak Ridge's leadership places special emphasis on safety to maintain the site's safety record and culture. The attention and unified support for safety is paying dividends.
Since the beginning of fiscal year 2012, Oak Ridge's three largest environmental cleanup contractors have achieved significant safety-related accomplishments. URS | CH2M Oak Ridge, Oak Ridge's prime contractor for EM, accumulated 1.6 million hours without a lost-work event. The contractor is responsible for numerous projects including the removal of Tank W-1A — the greatest source of groundwater contamination at the Oak Ridge National Laboratory — and demolition of the K-25 building, which housed the world's first gaseous diffusion plant for enriching uranium. Isotek, the site's contractor for the highly sensitive transportation and disposition of uranium-233, reached 1.8 million work hours without a recordable incident. Wastren Advantage Inc., the company that operates the Transuranic Waste Processing Center, totaled 160,000 hours without any recordable incidents.
"Having employees in the field with an understanding and commitment to safety is invaluable," said Sue Cange, assistant manager for EM. "Accumulating these safe hours, despite complex work environments, is a testament to our federal and contractor project managers and training staff."
DOE's Oak Ridge Office continues promoting safety dialogue through it's participation in the Oak Ridge Business Safety Partnership. The partnership, which dates back to 2004, is a collection of government agencies, contracting companies and labor unions that raise safety awareness in the region to achieve accident-free workplaces. The organization helps companies understand the demanding safety culture of DOE and the National Nuclear Security Administration and shares lessons about relevant safety topics.
The partnership's theme for 2012 is Above and Beyond: Creating a Sense of Urgency. This year, the partnership is sponsoring two training sessions for the community, and it will host the first Safety Fest in September. The community initiative, with large participation from DOE and its contractors, holds quarterly open forums to increase safety awareness and positively affect the community.
"From an overview standpoint, our job is really about performing missions that improve the safety and quality of life for area residents," said Cange. "But our top priority is performing work safely so our employees can go home to their families at the end of the day."