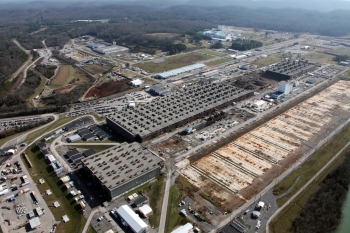 Employees at Oak Ridge are accelerating work at K-25's East Wing. Sixty percent of the remaining structure is expected to be down by the end of the September.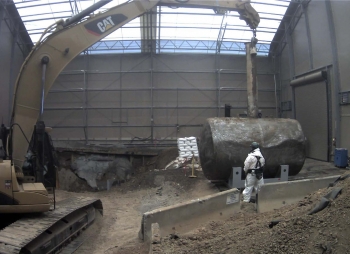 Tank W-1A, a 4,000-gallon contaminated tank buried in Oak Ridge National Laboratory's central campus, was removed from the site in January.
OAK RIDGE, Tenn. – Last year, Oak Ridge's Environmental Management (EM) program logged one of its most successful years due to sound project management and achievements in American Recovery and Reinvestment Act work.
Oak Ridge plans to maintain that momentum in 2012, and the year is off to a great start. EM employees are making considerable progress on Oak Ridge's largest projects, specifically the K-25 Demolition Project and Uranium-233 Disposition Project.
"Our employees laid an excellent foundation last year through the Recovery Act and cooperation with our newly selected prime contractor, URS | CH2M Oak Ridge," said Sue Cange, assistant manager for EM in Oak Ridge. "Those efforts have set the stage for an ambitious year, allowing us to make substantial gains in our work to meet requirements with regulators, protection of the environment, and furthering DOE's other missions onsite." 
Currently, Oak Ridge's EM program has a list of 40 active projects with a wide range of scopes and complexity. At the East Tennessee Technology Park (ETTP), employees are removing K-25's East Wing more rapidly than anticipated, with 26 percent of the 796,000-square-foot structure down and 60 percent planned for demolition by the end of September. Built as part of World War II's Manhattan Project, K-25 housed the world's first gaseous diffusion plant for enriching uranium.
EM is making progress finalizing the K-25 site's historic preservation plans, which have been under negotiation since 2006. A final agreement is expected this spring.
Also at ETTP, pre-demolition work is scheduled to begin in Building K-27. The eventual removal of this highly contaminated, 383,000-square-foot former gaseous diffusion facility will substantially eliminate risks and free millions of dollars in security and maintenance costs for cleanup elsewhere.
 
At the Oak Ridge National Laboratory (ORNL), employees removed the 4,000-gallon Tank W-1A this month. The tank, located in ORNL's central campus, was the greatest source of groundwater contamination at the site. From 1951 until 1986, the tank collected and stored liquid waste from radiochemical separations and high-radiation facilities at ORNL, until significant levels of soil and groundwater contamination were traced to the vessel. Currently, employees are removing the surrounding contaminated soils. The project is expected to be complete this summer in accordance with the Tennessee Department of Environment and Conservation (TDEC) and the U.S. Environmental Protection Agency's (EPA) milestone.
Also at ORNL, Oak Ridge's EM program is advancing the Uranium-233 Disposition Project. In late December, the first shipment of inventory from Building 3019 was sent offsite, marking the beginning of the end for the world's oldest operating nuclear facility. The first phase of shipments is expected to be complete during the next six to nine months.
 
At the Y-12 National Security Complex (Y-12), workers continue performing the second round of Recovery Act projects made possible through savings from previous Recovery Act projects. This second round of projects is directed toward mercury mitigation. For example, EM workers are developing an absorption unit to capture and treat mercury-tainted water from a location that is one of the main contributing factors of mercury entering the Upper East Fork Poplar Creek. 
EM is making headway on its National Priorities List (NPL) Site Boundary Delineation Project, which is in the final stages of characterizing 16,000 acres within the Oak Ridge Reservation. When complete, the uncontaminated areas will be removed from the existing NPL. The list, maintained by the EPA, contains sites with known or threatened releases of hazardous substances, pollutants, or contaminants.
Once areas are removed from the list, they can be approved for a greater range of new development and reuse activities. Most water and soil samples have been analyzed and validated, with the final two samples scheduled for completion this month. The overall project remains on schedule to meet a Sept. 30 milestone with TDEC and the EPA.