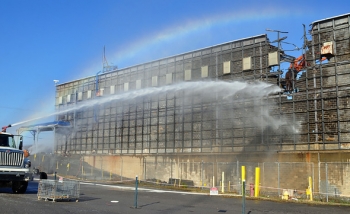 Crews tear though the final wall of Building K-25, bringing an end to the five-year demolition project.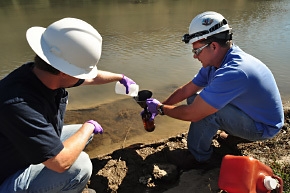 Workers conduct extensive sampling and characterization throughout the Oak Ridge Reservation to clearly define the areas that require cleanup or further action.
OAK RIDGE, Tenn. - In 2013, the Oak Ridge Office of Environmental Management completed numerous projects. Some of the major accomplishments involved reaching two long-standing goals and progressing on the design of a new construction project.
Building K-25 Demolition Project: One of Oak Ridge's greatest accomplishments was the conclusion of K-25's demolition. EM's contractor, URS|CH2M Oak Ridge, LLC, or UCOR, took over the project in 2011 and has maintained a strong safety record while completing the demolition over one year ahead of its current schedule and approximately $300 million under the current budget. The five-year demolition project brought down the largest facility in the DOE complex, and what was once the world's largest building under one roof. The 44-acre uranium enrichment facility was constructed in 1943, and it operated until 1964. Its demolition is a crucial element to cleanup of the East Tennessee Technology Park, which is being converted into a private-sector industrial park. "K-25 was essential to building the arsenal that defended American freedom during World War II and the Cold War," said Deputy Secretary of Energy Daniel Poneman. "Now that K-25's noble cause is fulfilled, completing the demolition of the facility was an important milestone in fulfilling our commitment to return this site to the community."
Refining Oak Ridge's Cleanup Areas:  In 1989, the U.S. Environmental Protection Agency placed the Oak Ridge site on its National Priorities List. The list names priorities where there are known or threatened releases of hazardous substances. Until recently, the entire 33,500-acre Oak Ridge Reservation was included in this listing. However, this year, EM completed a project that clearly defined the areas that require cleanup or further action. Through a review of historic documents and extensive sampling, analysis and characterization, regulators deemed 19,393 acres as clean and requiring no action. 
Conceptual Design for Mercury Treatment Facility: Oak Ridge is finalizing the conceptual design for a mercury treatment facility at the Y-12 National Security Complex. Construction is anticipated to begin in 2017 with operations starting in 2020. The initial design of the proposed facility will accommodate treatment of 3,000 gallons of water per minute and the removal of mercury from base flow (process flows, cooling water, runoff) and a portion of storm flow entering Upper East Fork Poplar Creek. The treatment facility is also essential to Y-12's future cleanup because it is intended to mitigate potential increases in mercury entering surface water prior to, during and subsequent to the eventual demolition of nearby buildings that contain and overlie soil contaminated with mercury.