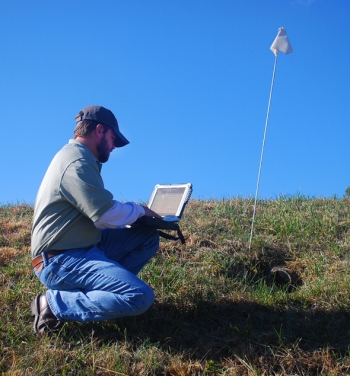 Oak Ridge's environmental database contains data from more than 14 million field samples. These samples provide a clear picture of clean and contaminated areas at the site.
OAK RIDGE, Tenn. – Oak Ridge is working to remediate contaminated areas in one of the EM program's most diverse and complex cleanup sites due to the research and production that occurred there during the Manhattan Project and Cold War.
Oak Ridge employees use an array of tools to educate the public about the site's current condition, including an environmental database available to the public. Recently, the employees improved the Oak Ridge Environmental Information System, transforming it from a data storage site to a user-centric tool with numerous applications.
The system was created after the Environmental Protection Agency listed Oak Ridge on its National Priority List, which details known releases or threatened releases of hazardous substances, pollutants, or contaminants throughout the U.S. and its territories. DOE requested a database to retain all of Oak Ridge's environmental monitoring data.
The Oak Ridge system contains more than 14 million data samples, and it serves as a valuable tool to manage and promptly verify the status of remediation projects across the 33,500-acre site. With the recent upgrades, users can obtain data from millions of samples to verify decisions without the need for additional, and often costly, soils data.
A team of federal and contractor employees improved the system's usability and search ability. Now, it offers more documents and sample location verifications. In addition, the team made the system more useful and informative to a greater number of residents, regulatory stakeholders and the Department's federal and contractor employees.
"The improvements to our environmental database are a great reflection of our program right now," said Mark Whitney, manager of the Oak Ridge Office of EM. "This is an instance when employees saw an opportunity for improvement, and that initiative and decision made it possible to create better reporting, enhance public knowledge, and in some cases, save tax dollars."
The team completed four major improvements. Developers improved the search capability for people with query specific documents. They linked the system to more reports that share the history and progression of each remediation area. These documents show where samples were taken, if they had contamination and if the contamination was removed or remains in place. The team verified sample locations to present the most accurate representations and geospatial displays. It also enhanced visuals and color coding to delineate each area's remediation zones.
Access the database here. Request a username and password by e-mailing oreis@ettp.doe.gov.