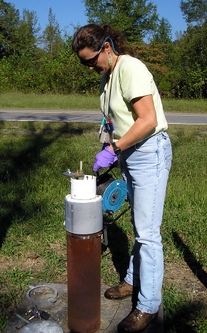 EM uses data collected at monitoring wells to determine groundwater migration patterns and potential risks.
OAK RIDGE, Tenn. – The Oak Ridge EM program has joined state and federal regulators in a series of workshops to address contaminated groundwater on the Oak Ridge Reservation.
The U.S. Environmental Protection Agency and Tennessee Department of Environment and Conservation are working with Oak Ridge's EM program and other organizations interested in the site's environmental cleanup and quality. Those entities include URS | CH2M Oak Ridge, Oak Ridge's prime cleanup contractor, and Science Applications International Corporation, which facilitates the workshops. Dan Goode, from the U.S. Geological Survey, serves as a liaison to the Oak Ridge Site Specific Advisory Board. The team is working on an interagency approach to address potential onsite and offsite health threats and restore local groundwater resources.
"This effort is helping us achieve a more complete understanding of the state of the Oak Ridge Reservation's groundwater," said Oak Ridge EM Manager Mark Whitney. "We are taking a collaborative approach to arrive at the best recommendations for the future safety of our local water supply and other environmental protection concerns."
Workshop participants established several objectives, one of which is to set priories to guide funding decisions, with a focus on pathways where contaminated groundwater could be migrating offsite.
To date, the workshops have focused on groundwater flow and contaminant boundaries within the reservation. The group has also worked to discover any data gaps and rank groundwater issues according to potential associated risk. The risks have been ranked, and participants considered each area's geology, land use, surface water and groundwater interaction.
The sixth and final upcoming meeting will examine the final rankings and select a project to undertake. The interagency group will release its final findings, strategy and areas of consensus in a report due Sept. 30.