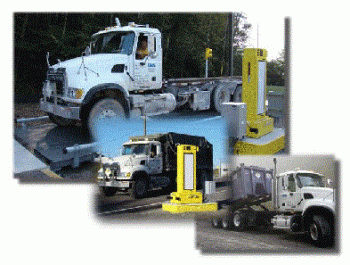 Oak Ridge, TN - The Environmental Management Waste Management Facility (EMWMF) provides the onsite disposal capability for the majority of cleanup-generated wastes on the Oak Ridge Reservation. EMWMF has continued a long-standing pattern of safe, complaint operations with 3,000 days without a lost workday case since operations commenced on May 28, 2002. The EMWMF has placed 1.5 million tons of waste and fill in the facility. The EMWMF receives waste from many Oak Ridge cleanup projects, including American Recovery and Reinvestment Act-funded projects, multiple contractors, and in many forms, including containerized and bulk demolition and remediation waste.
Since the incorporation of the Waste Transportation Project on December 1, 2004, 5.3 million miles have been completed with no incidents, violations, or at fault accidents as of July 25, 2010.
The K-25 and K-27 Projects have forecasted a number of waste shipments to the Nevada Test Site using a Department of Transportation (DOT) Special Permit (SP) for packaging of fissile material. This SP limits the number of waste packages per exclusive use trailer to 2. This year, approval was received from the Department of Energy (DOE)/Oak Ridge (OR) to use double or tandem "Pup" trailers, with each trailer carrying two packages. This configuration will enable completion of the shipping campaign by making only half of the forecasted shipments. The savings associated with tandem trailers verses single trailers will range from $5,306 for an unclassified shipment to $12,737 for a classified shipment. After completing only nine shipments thus far, savings in transportation cost to the DOE are valued at $62,618, and a reduction in the use of 7,200 gallons of diesel fuel. Potential savings for the entire campaign could be in excess of $200,000 in transportation costs and over 25,000 gallons of diesel fuel.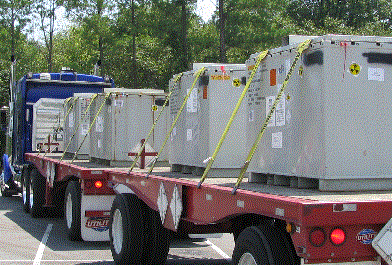 The contractor, Bechtel Jacobs Company (BJC), has implemented a fully integrated electronic waste shipping system to facilitate a paperless on-site shipping process. Since installation and implementation in February 2009, over 30,000 shipments have been tracked to EMWMF using Radio Frequency Identification Transport System. The paperless system has saved over 240,000 sheets of shipping documents during this period. This is equivalent to 24 really big pine trees. Currently the system has been expanded to include Oak Ridge National Laboratory (ORNL) and Y-12 waste shipments to EMWMF.