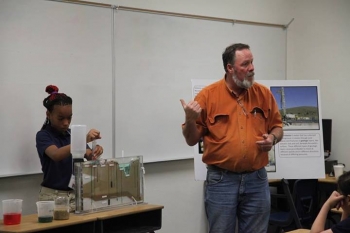 Jeff Wurtz, a Navarro-Intera hydrologist at the Nevada National Security Site, gets some help from GEAR UP summer camp student, Donnea Mayfield, to demonstrate the dynamics of the water cycle and how humans affect it.
The best part of summer, for most kids, is NO SCHOOL! But some kids in Las Vegas are taking advantage of the extra time to "Gear Up" their education, and a team from the Nevada National Security Site (NNSS) was there to lend a hand.
A group of about 80 students took to the classroom to talk with a NNSS hydrologist and learn how the complex geology below the Earth's surface is connected with groundwater. Several students had an opportunity to actively participate in the demonstration, which uses an "ant farm" style display that represents a cross section of the Earth. 
"We had several of the kids say they really enjoyed the presentation," said Victoria Parker, University of Nevada, Las Vegas (UNLV) GEAR UP Coordinator. "I hope to work together again in the near future," she added.
The students joined the GEAR UP program, which helps low-income students to prepare for and succeed in post-secondary education, for guidance on staying in school, studying hard and taking the right courses to succeed in college.  GEAR UP is part of UNLV's Center for Academic Enrichment and Outreach and aims to help communities create new or expanded school programs and provide educational opportunities for students.  Additionally, GEAR UP prompts local schools, community-based organizations, private industry and institutions of higher education to work in partnerships to help students and their parents gain needed knowledge and bolster academic programs in their schools.
As part of NNSS Environmental Management outreach activities, federal and contractor staff routinely participate in community engagement opportunities like the GEAR UP summer camp.  This groundwater demonstration, an extension of the Operation Clean Desert education program, is intended to encourage student interest in subjects such as science, technology and math.  In addition, the Nevada Field Office (NFO) hopes to foster awareness, educate and engage the community with ongoing environmental activities at NNSS.
For more information about the GEAR UP program, visit http://caeo.unlv.edu/GEARUP.
For more information on NFO outreach activities, visit http://www.nv.energy.gov/outreach.