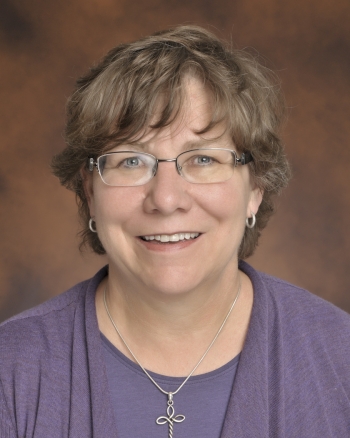 Alice Williams was named EM's Associate Principal Deputy Assistant Secretary on Jan. 1.
WASHINGTON, D.C. – Alice Williams was named EM's Associate Principal Deputy Assistant Secretary on Jan. 1. Williams recently talked with EM Update about her role in EM's new organizational structure, which is based on a matrix construct and facilitates collaborative decision-making around shared goals and objectives. This structure aims to better align the program to achieve success in the Cold War cleanup. As part of its reorganization, EM created Mission Units, which are in charge of the effective program management of the mission areas and the activities necessary to complete the cleanup mission.
What are your goals in your position of day-to-day oversight of the three Mission Units (tank waste and nuclear materials; waste management; and safety, security and quality programs)?
The new organization is highly matrixed, and therefore, at least in the interim, one my goals is to work very closely with the Mission Support Deputy Assistant Secretaries and the field offices to achieve common goals. One common goal is the work at the Waste Treatment Plant and tank farms, which is funded by a large portion of EM's budget. That is a huge focus for EM and we must be successful in this project.
Also, the managers in the Mission Units all need to be inwardly focused on managing the people and making sure our EM staff members are fully empowered to do their job and have the needed training. The training is a really challenging one because we all know program direction funds are very dear and scarce right now. So, a lot of what we will be doing is looking at training opportunities that are somewhat innovative, taking advantage of current technologies. But it will not be the old ways of flying across the country for one or two weeks of specialized training.
Another area I am very mindful of is President Obama and Secretary Chu's commitment to sustainability. Whether we have infinite program direction funds or not, it is clearly the expectation of Dr. Chu that we will be using less fuel and minimizing emissions not only in our site operations and construction projects but also in how we conduct our businesses as federal employees.
In your own vision, discuss some of the accomplishments you anticipate from the Mission Units.
I am excited that the Sodium-Bearing Waste Treatment Facility at the Idaho site will be operational in the very near future. I certainly cannot take credit for that because that has been an ongoing, long-term construction project. But I clearly acknowledge the Mission Units do have a role in being able to have that facility operational.
We definitely are going to be focused on closing two more high-level waste tanks at the Savannah River Site, and that is going to be an activity that is going to take a village.
Tell us how your experience as manager of the Lawrence Livermore Site Office within the National Nuclear Security Administration will help EM advance its mission under this new organization.
The Livermore Site Office is co-located with the Lawrence Livermore National Laboratory. So, in that sense, federal oversight is very easy because you would walk out the door and essentially be overseeing. We have several nuclear hazard category facilities, so the office had a very strong capability and focus on nuclear safety. There are some similarities with EM that I think will be very useful to me. Livermore's budget is roughly $1.5 billion. Just as we are seeing with EM, competition for funding and resources is increasing and it has become more difficult to achieve the funding levels that perhaps all of us would like to see.
My experience effectively building collaborations at Livermore will be an asset. The days when you would expect a nuclear weapons laboratory to almost be a citadel are over. You have to be able to build that coalition and show that you can work in collaboration on issues. The laboratory is completely surrounded by the community of Livermore. If Livermore is not a good neighbor, it will cease to exist. And in some ways that is the role of EM, too. We do have a responsibility to the communities where we are doing our cleanup activities.
Do you believe your experience in both headquarters and field sites will be an asset to EM as it continues its mission under this matrix structure, which calls for improved integration between headquarters and the field and clear roles and responsibilities for each?
The first time I came to EM headquarters, in 2003, I was completely unprepared for how headquarters worked and how things were defined as important for headquarters. Gaining that insight and knowledge was probably the best thing that ever happened to me. I would make a case that people who have spent their whole career at headquarters likewise will have a blind spot as to how field units work, what is important to them, how they conduct their business and how they view the world. You have to be able to see both sides and experience both sides to be as effective as one can be as a federal employee.
How do you think this new organization will better align the program to support program priorities and achieve mission success than EM's previous organizational models?
I was not part of the organization as the new organization was envisioned and came together. So essentially, I am parachuting in after all the hard work has been done. As I understand the process that Senior Advisor for Environmental Management David Huizenga and Principal Deputy Assistant Secretary Tracy Mustin and their team were envisioning for the new organization, there was a lot of work with individuals in EM and the previous organizational construct to see what people felt needed to be changed to be more effective. So I am taking it on face value that this is the organization that is going to allow a more effective EM organization. And I view my job in my new position as helping to make it happen.
How will you ensure Mission Units, in cooperation with the sites, are accountable for effective performance to complete cleanup activities?
Right now we are working on performance plans, and that means taking EM goals and the DOE Strategic Plan elements and flowing them down to me, the Deputy Assistant Secretaries, Associate Deputy Assistant Secretaries and individual employees. This is always a worthy goal and it is not always achievable. But there should be a time in the not very distant future when I can go to anybody in the EM organization and say, "Talk to me about the goals you are supporting. How do you see your contribution as to the success of those goals that you talked to me about? Where do you see yourself fitting in into the larger Department of Energy?" Some of things I would like them to be able to tell me is, "Yes, I have read the DOE Strategic Plan." And they can tell me any thoughts they might have on it and relate it to their business life.
How will this new organization foster collaborative decision making for shared goals and support improvements across the program? What other benefits do you envision from the reorganization?
I have worked with David and Tracy on and off for many years in many different situations. I think one of the strengths of David and Tracy is that they do want a collaborative decision-making process. Both of them are very comfortable with the fact that they are the ultimate decision makers within EM and so that means the collaborative decision-making process is very important to them. They want to be able to understand how that work has gone on, what has been looked at, what has been considered, what are the pros and the cons and what are the outlying opinions. They want to understand all that before they make their decisions. But when they make the decision, they expect the organization to align to that decision and work toward those goals.
Another focus of the Mission Units is accelerated cleanup and closure of EM's sites. Which sites are on track for accelerated cleanup and closure?
There are several sites on track for accelerated cleanup and closure. In fact, I would think most of our sites have an accelerated strategy. Case in point is the expeditious closure of two high-level waste tanks at the Savannah River Site. Another example is disposition of the sodium-bearing waste within 10 months of the start of operations at the Sodium-Bearing Waste Treatment Facility. And, one of the biggest successes of EM recently was the American Recovery and Reinvestment Act work and how EM could mobilize, implement and demobilize in a short time. That is something we have learned and it is pretty exciting.
In our corporate tradition we do not spend a lot of time talking about the great things in the past, but it does not hurt to remember that the Mound, Fernald, Rock Flats and Pinellas sites are closed. That is an amazing accomplishment. And there will always be facilities such as the Brookhaven National Laboratory, but there will not always be an EM presence at them. Really, when you think about it, it is amazing.