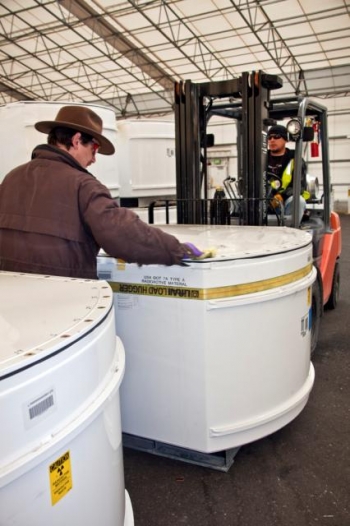 Workers move standard waste boxes to the High-Energy Real Time Radiography facility.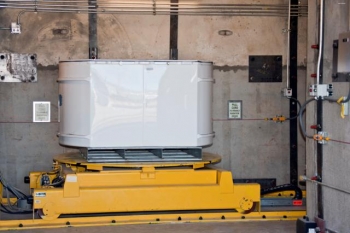 A standard waste box enters the HE-RTR at Los Alamos National Laboratory. The facility x-rays waste drums that contain high-density items such as motors and pumps and larger containers known as standard waste boxes.
LOS ALAMOS, N.M. – Los Alamos National Laboratory's (LANL) capability to ship transuranic (TRU) waste received a boost with the recent opening of a new facility that increases the efficiency of the Lab's ability to characterize waste for shipment to the Waste Isolation Pilot Plant (WIPP) in Carlsbad, N.M.
The High-Energy Real Time Radiography (HE-RTR) facility allows the LANL TRU Waste Program to x-ray waste drums that contain high-density items such as motors and pumps and larger containers known as standard waste boxes.
Before they are shipped to WIPP for permanent disposal, waste containers must be x-rayed to verify the type of waste they contain and ensure the contents are not prohibited by WIPP, such as aerosol cans or corrosive or ignitable materials.
Without this facility, large containers would have to be opened and manually inspected by workers.
Because the HE-RTR uses a powerful, high-energy x-ray machine, the inner and outer walls of the 2,000 square-foot building were constructed of eight inches of precast concrete. The area between the walls contains six to 10 feet of compacted sand that acts as a shielding agent.
Standard waste boxes containing radioactive waste are loaded onto a turntable in the facility. The turntable rotates so the entire container is x-rayed, validating the box's contents and ensuring it contains no prohibited items. 
The facility is operated by WIPP's Central Characterization Project — the team that characterizes and certifies the processed waste before it is shipped to WIPP. 
The cost to build the facility was approximately $3 million and was funded primarily by the Central Characterization Project. When its Los Alamos mission is completed, it is designed to be dismantled and reassembled at another site, as needed.
"Our goal is to significantly reduce the above-grade legacy inventory and associated risk by mid-2014," said Kathy Johns-Hughes, LANL TRU Waste Program director. "The HE-RTR gives us the capability to easily determine the contents of larger containers and determine whether the waste must be processed further, so we can further accelerate the number of shipments to WIPP and meet that goal."
Before WIPP opened in 1999, TRU waste generated by the Lab's nuclear security mission was stored at Technical Area 54, Area G. TRU waste consists of clothing, tools, rags, debris, soil and other items contaminated with radioactive elements, such as plutonium. Each of these man-made elements has an atomic number greater than uranium, so they are labeled transuranic, for "beyond uranium" on the periodic table of elements.
The Lab's TRU Waste Program has shipped record numbers of waste to WIPP in each of the past three years. During the past year, the program sent 171 shipments—more than 2,500 containers—of TRU waste safely to WIPP.