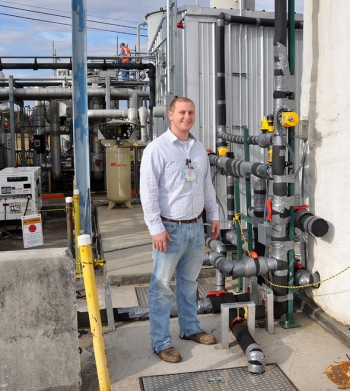 Chromium Water Treatment System Facility Manager Matt Finley stands near one of the facility's ground wells.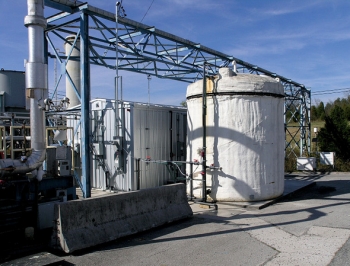 The Chromium Water Treatment System, located within the footprint of the older Central Neutralization Facility, serves a vital need by treating groundwater and achieving substantial savings for Oak Ridge's EM program.
OAK RIDGE, Tenn. – Oak Ridge's EM program is operating a new facility that reduces the amount of contaminants entering Mitchell Branch, a stream at DOE's East Tennessee Technology Park.
The Chromium Water Treatment System (CWTS) serves a vital need in the area by converting harmful chromium-6, found in groundwater, into chromium-3, which is a safer form of the element. The facility helps EM protect and improve human and wildlife environmental health in the area. The facility also eliminates the discharge of chromium-contaminated groundwater and removes low levels of volatile organic compounds prior to discharge to the Clinch River.
In 2007, EM survey teams began recording traces of chromium-6 in the local stream that exceeded water quality standards established by the Environmental Protection Agency and the state of Tennessee. EM took a series of actions to collect and treat the contaminated groundwater. Initially, the existing Central Neutralization Facility served as the treatment facility. However, construction of CWTS allowed the cleanup program to shut down the older facility, a move that provided significant associated cost savings. The new facility allows EM to avoid costly equipment repairs associated with the older facility, and it reduces annual operating costs by $1.5 million to $2.5 million.
Currently, the system uses two wells that pull water from the ground at a rate of six gallons per minute. As water is extracted from the ground, the system uses a steel wool process that effectively strips unwanted material from the water and converts chromium-6 into chromium-3. Altogether, the conversion process takes 17 minutes from the time water is extracted until it is treated and released using a four-mile pipeline to the Clinch River. To date, more than 1.6 million gallons of groundwater have been diverted from Mitchell Branch and successfully treated, enabling Mitchell Branch's water quality to meet regulatory standards.
Matt Finley, UCOR's facility manager for the CWTS, says that improvements are being made to enhance the facility due to its important mission and scope of work. EM plans to install additional upgrades that will increase the system's reliability.