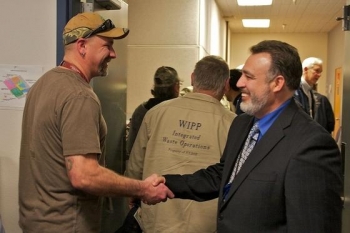 Carlsbad Field Office Manager Joe Franco, right, exchanges greetings with Mark Long, Jr., a Washington TRU Solutions LLC employee, at a WIPP all-hands meeting in February. "WIPP is America's only and the world's best," Franco said of the deep geologic repository for nuclear waste.
CARLSBAD, N.M. – If you want to catch up with Carlsbad Field Office (CBFO) Manager Joe Franco, you may have to run. In fact, his first weeks in his new job have looked like a sprint.
Franco's last six years were at DOE's Richland Operations Office at the Hanford site in Washington state, where he served as Assistant Manager. That coupled with a previous 17 years of experience at the Waste Isolation Pilot Plant (WIPP), and he was able to hit the ground running upon arrival at CBFO.
For example, Franco held a series of all-hands meetings at WIPP's in-town facility and at the WIPP site. Inviting all CBFO federal and local DOE laboratories and contractors employees to attend was a first, and it was well received.
"Joe, a native of Carlsbad, New Mexico, brings a wealth of experience to the job, including over 25 years of nuclear experience," Senior Advisor for Environmental Management David Huizenga said following Franco's selection as CBFO Manager. "Joe is no stranger to the site. As Manager of CBFO, he leads the development and implementation of WIPP's vision, priorities and program policies for the TRU waste management program mission for the DOE."
Franco discussed important projects under way involving the removal of TRU waste.
"A top priority among the CBFO and WIPP initiatives is fulfilling commitments, including supporting Los Alamos National Laboratory (LANL) in meeting the milestones in the newly developed framework agreement with the New Mexico Environment Department," Franco said. The LANL framework agreement sets the goal for the complete removal of aboveground TRU waste currently stored at Area G at LANL by June 30, 2014.
Asked about the challenges he faces, Franco addressed issues he considers important.
He said WIPP's aging infrastructure and a higher-than-expected throughput over the years has resulted in wear-and-tear on the facility. "The plant must be maintained so we can continue to fulfill our cleanup mission to the nation," he said.
Another issue deals with measurements of success. In some cases, Franco said, the number of WIPP shipments received isn't the best performance measure. Franco said risk reduction also needs to be considered. "The reason is that even small numbers of shipments to WIPP can, in some cases, dramatically reduce the risk to people and the environment," he said.
He also discussed how he will bring together officials from the sites that need WIPP services to form a common vision of what's needed for cleanup.
"I'm glad to be back and hoping to make a difference," he said.