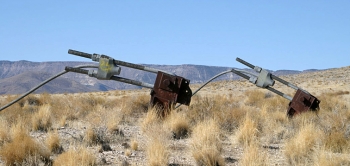 Stanchions are among the remnants of Smoky Tower.
LAS VEGAS, NV – The Nevada National Security Site's (NNSS) historic Smoky site may soon join a long list of former nuclear testing locations eligible for inclusion in the National Register of Historic Places. The Desert Research Institute (DRI) is currently working alongside the Nevada Site Office (NSO) to determine the eligibility of Smoky and a number of other EM sites slated for cleanup and closure.
"In the last year, we've conducted assessments at over 30 EM sites," said DRI Cultural Resources Expert Dr. Colleen Beck. "Smoky is the most intact post-atmospheric test site we've seen on the NNSS." Originally standing 700 feet tall, the Smoky tower was the tallest tower ever used for a nuclear test. Conducted in August 1957, Smoky was one of a series of tests in Operation Plumbbob.
The DRI's Cultural Resources Program is a diverse effort that includes prehistoric and historic archaeology, archaeology of Cold War activities, historic building evaluations and documentation, and consultations with Native Americans. In addition to approximately 250 nuclear testing-related
structures or objects, DRI has completed cultural resources inventories of more than 2,000 archaeological sites at the NNSS.
Over the next couple of months, Dr. Beck and her associates will be inventorying (i.e., photographing, measuring, and counting) all historical features in the Smoky area in support of the NSO. Features include remnants of the test tower (steel beams, cross members, and stanchions), lead bricks, bunkers, trailer remains, and a large winch reel. Once the inventory is completed, the information will be reported to Nevada State Historic Preservation Office personnel, who will then determine the artifacts' eligibility for the National Register.
In many cases, DRI is working simultaneously with EM field crews, who are performing environmental assessments at Smoky and other historic nuclear test locations as part of an agreement with the State of Nevada. The agreement requires the NSO to identify closure options for hundreds of EM sites on the NNSS — options that weigh the risks and benefits of cleaning up a site as opposed to closure with administrative restrictions.
 
"EM fully supports DRI's efforts in these areas," Federal Project Director Robert Boehlecke said. "While we're exploring remediation options and future use scenarios at these sites, we're also responsible for complying with historic preservation laws."
Under the National Historic Preservation Act, federal agencies must consider the eligibility of sites (any object, building structure, or landscape) over 50 years old for listing on the National Parks Service's National Register of Historic Places — an official list of significant historic and archaeological sites in the U.S.
According to Federal Cultural Resources Program Manager Linda Cohn, once sites are deemed eligible for listing on the National Register, they are automatically afforded very clear protections. "This means that sites cannot be disturbed or artifacts removed until a formal mitigation process
takes place. The mitigation process involves the preparation of an official historical and photographic archive for submittal into the Library of Congress," Cohn said.
Although the Smoky site will likely remain undisturbed for the foreseeable future, some eligible EM sites have seen dramatic changes. The closure decision for the historic Reactor Maintenance, Assembly, and Disassembly (R-MAD) building, for instance, resulted in the structure's complete
demolition in July 2010. The stories of R-MAD and many other NNSS sites continue to live on, however, thanks to the preservation laws and individuals committed to giving NNSS cultural resources a permanent place in American history.