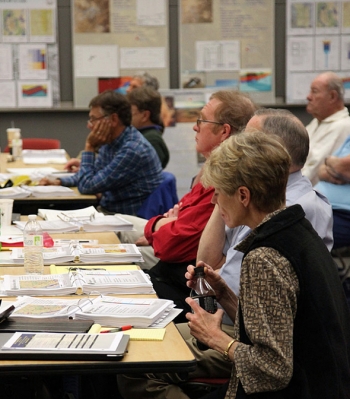 Peer reviewers gathered at the Frank Rogers Building in Las Vegas for technical discussions.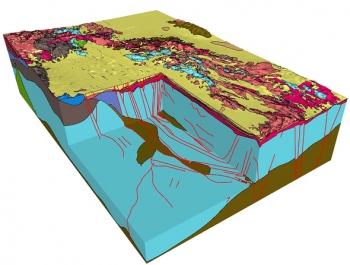 In this model example, each geologic unit is represented by a different color. The red lines represent faults.
LAS VEGAS – Recently, an independent peer review team was invited to assess the groundwater characterization program at the Nevada National Security Site (NNSS). This nationally recognized group of experts, from various external organizations, will examine the computer modeling approach developed to better understand how historic underground nuclear testing in Yucca Flat affected the groundwater.
In early April, five peer reviewers joined the NNSS groundwater team in Las Vegas to participate in technical briefings, working sessions, and a tour of Yucca Flat, which was the site of hundreds of underground nuclear tests from 1951 to 1992. To ensure transparency, two members of the public who are with the Nevada Site Specific Advisory Board also attended and observed the peer review process.
Under review is what's called the Yucca Flat Flow and Transport Model, a set of representations, including complex subsurface geologic models and mathematical models of groundwater flow and contaminant transport. Years of intensive drilling and data collection went into making the model. NNSS scientists use such models to analyze the movement of radioactive contaminants in groundwater.
Peer reviewers representing the fields of geochemistry, radiochemistry, hydrology, hydrogeology and computer modeling are charged with determining the viability of the Yucca Flat model.
"We're asking the panel to consider these questions," NNSS Underground Test Area Task Manager Bill Wilborn said. "Does the model adequately account for uncertainty in the natural system and how contamination may be transported within it? Is it a useful tool to aid in regulatory decision making? Is the model sufficient to move forward to the next stage of our negotiated regulatory process, which is continued model evaluation to build confidence that the model is sufficient? And does the model provide a solid basis for long-term monitoring of the natural system and contaminants?"
The peer reviewers will spend the next few weeks exploring these questions and coming up with recommendations. Their report will be completed in the next few months.