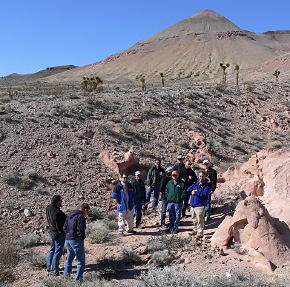 In March 2010, NNSS groundwater specialists toured the site in preparation for an independent peer review of the historic underground test area, Frenchman Flat. In August 2010, the peer review panel found model projections to be sound and recommended moving on to the next phase.
LAS VEGAS – The historic underground test area known as Yucca Flat is the focus of an upcoming independent peer review. In preparation, groundwater specialists working for the Nevada National Security Site (NNSS) groundwater program have scheduled a week-long dry run in February.
Dry run organizers believe the exercise will strengthen the official peer review scheduled to begin April 7.
"This week-long practice session will bring all of the participating experts together so that we can prepare for questions and ensure we are including the appropriate level of technical detail," said Bill Wilborn of DOE's National Nuclear Security Administration, Nevada Field Office.
April's peer review panel will consist of experts in geology, geochemistry, hydrology and modeling. "These independent panelists will be looking at how we have implemented our characterization strategy at Yucca Flat and whether our results meet the requirements within the strategy," said Wilborn. "They'll determine whether our process is sufficient enough to move us forward to our next phase, which involves additional data collection, analysis and an evaluation of our computer model's performance."
Situated on the northeastern portion of the NNSS, the Yucca Flat basin was the location of more than 700 underground nuclear detonations (a testing moratorium has been in effect since 1992).  Scientists are now performing extensive work at Yucca Flat and four other former test areas to better determine groundwater flow paths and the transport of radionuclides resulting from past testing.
The Nevada Field Office plans independent peer reviews for each of the five former underground test areas.