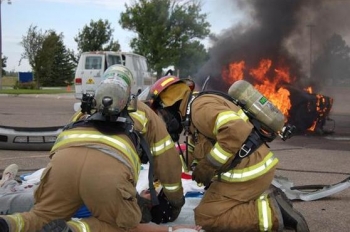 In a mock scenario, firefighters work with an accident victim during a Transportation Emergency Preparedness Program full field exercise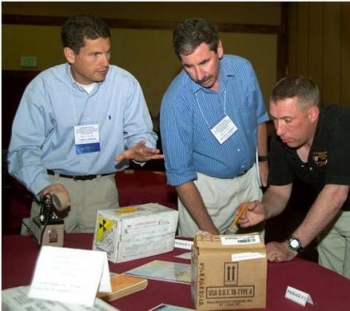 Students learn to identify labels and use instruments during a Transportation Emergency Preparedness Program class
WASHINGTON, D.C. – The Transportation Emergency Preparedness Program (TEPP) — a DOE program managed by EM's Office of Packaging and Transportation — ensures federal, state, tribal and local responders have access to the plans, training and technical assistance necessary to safely, efficiently and effectively respond to radiological transportation accidents.
EM completed about 10,000 radioactive and hazardous material and waste shipments in fiscal year 2012. More than 2,000 responders received TEPP training in fiscal year 2012, a major accomplishment highlighted in TEPP's annual report recently released. Events, outreach, partnerships and training enabled TEPP to build radiological response capabilities of states and tribes.
TEPP partnered with state and tribal instructors, the DOE Radiological Assistance Program and Waste Isolation Pilot Plant to provide 112 courses in 26 different states.
An additional 844 responders received training in 57 state-taught courses that incorporated a TEPP training program on emergency response radiological transportation training.
Altogether, 2,853 responders were trained in 169 classes using TEPP training materials in fiscal year 2012.
TEPP also launched plans for emergency preparedness for two routes from Canada to South Carolina to support the National Nuclear Security Administration's (NNSA) Global Threat Reduction Initiative. The initiative works to reduce and protect vulnerable nuclear and radiological materials located at civilian sites worldwide. TEPP identified locations for training, drills and exercises along the NNSA routes.
The success of TEPP training has been field-proven numerous times by TEPP-trained personnel who responded to real-world radiological events. Responders said the skills they gained through TEPP training helped them respond safely and effectively.
Students stated that the TEPP emergency scenarios were helpful to their careers and cited simulated drills and exercises as challenging and useful for real events. The students also said TEPP motivated them to pursue additional training.
"The training was awesome," one student wrote in an evaluation of TEPP training. "The use of real life sources put things into perspective. A wonderful class and I learned a lot from a firefighter point of view."
TEPP focuses training and outreach along active and planned DOE transportation corridors in coordination with local, state and tribal officials in the affected jurisdictions.