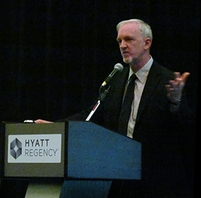 EM Senior Advisor Dave Huizenga provides the keynote address at the recent National Transportation Stakeholders Forum meeting.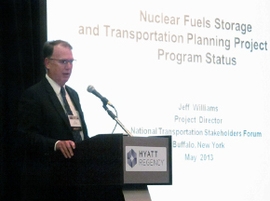 NE's Jeff Williams discusses the status of the Nuclear Fuels Storage and Transportation Planning Project.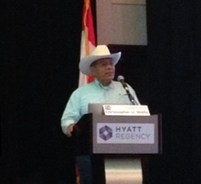 Richard Arnold, with the Pahrump Paiute Tribe, provides an overview of Tribal Caucus action items and initiatives for enhanced national transportation coordination.
BUFFALO, N.Y. – In his keynote address at the fourth-annual DOE National Transportation Stakeholders Forum (NTSF) meeting, EM Senior Advisor Dave Huizenga noted that transporting and disposing of contaminated waste, structures and other materials is inherent to the Department's ability to accomplish its Cold War cleanup mission.
Huizenga told the more than 190 people in attendance that EM has made significant progress toward fulfilling its responsibility of cleaning up the nation's nuclear legacy. He also emphasized the importance of NTSF's work.
Through NTSF, DOE communicates with states and Tribes about the Department's radioactive waste and materials shipments. The NTSF collaborates with state and Tribal governments to bring transparency, openness and accountability to DOE's offsite transportation activities. DOE also has several cooperative agreements with organizations — such as the Western Governors Association Transportation Safety Technical Advisory Group — to ensure collaboration on transportation issues.
The recent NTSF meeting was hosted by the Eastern Regional Conference-Council of State Governments. It was co-sponsored by the Office of Nuclear Energy (NE) Nuclear Fuels Storage and Transportation Planning Project and EM's Office of Packaging and Transportation (OPT) and Waste Isolation Pilot Plant. In addition, the National Nuclear Security Administration addressed key transportation initiatives and the Nuclear Regulatory Commission conducted a breakout session on key policies affecting transportation.
NE Nuclear Fuels Storage and Transportation Planning Project Director Jeff Williams provided an update on the Strategy for the Management and Disposal of Used Nuclear Fuel and High-Level Radioactive Waste. That strategy is a framework for moving toward a sustainable program to deploy an integrated system capable of transporting, storing and disposing of used nuclear fuel and high-level radioactive waste from civilian nuclear power generation, defense, national security and other activities.
A Tribal Caucus was held in conjunction with NTSF under a cooperative agreement with the National Conference of State Legislatures. Tribal Nations in attendance included the Confederated Tribes of the Umatilla Indian Reservation, Navajo Nation, Nez Perce Tribe, Oneida Indian Tribe of Wisconsin, Oneida Nation, Pahrump Paiute Tribe, Prairie Island Indian Community, Pueblo de San Ildefonso, Pueblo of Laguna, Pueblo of Pojoaque, Santa Clara Pueblo, Shoshone-Bannock Tribes and Timbisha Shoshone Tribe.
In addition to the annual meeting, NTSF hosts quarterly webinars attended by an estimated 70 participants representing DOE programs and sites, other federal agencies, states, Tribes and industry representatives.
Information on the recent meeting and other NTSF activities is on the EM web site here or at the NTSF wiki site (accessible by password only) (http://ntsf.wikidot.com/).