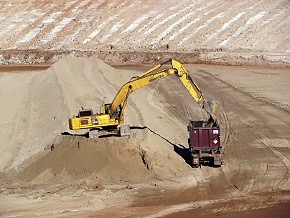 A haul truck carrying a container is loaded with mill tailings at the Moab site. Once loaded and lidded, the container will be placed on a railcar for shipment by train to the Crescent Junction disposal site.
MOAB, Utah – The Moab Uranium Mill Tailings Remedial Action Project had a productive year, despite continued budget constraints and a first-ever, three-month curtailment of shipping operations last winter.
On June 18, the project reached a significant milestone of having shipped 6 million tons of uranium mill tailings from the former mill site in Moab to an engineered disposal cell near Crescent Junction. The shipments mark continued progress toward relocating the 16-million-ton mill tailings pile away from the Colorado River.
Since June, the project has shipped an additional 457,500 tons. "I am proud this project has used its limited funding wisely and is now 40 percent complete," said Federal Project Director Donald Metzler. "This has been accomplished by a dedicated workforce that exceeded DOE's stringent safety goals throughout the year."
In 2013, the project shipped all 158 planned trainloads, transporting a total of 21,510 containers full of tailings.
The project reached another milestone earlier this year: extraction of 200 million gallons of contaminated groundwater from the Moab site since EM began its interim remedial action system in 2003 as part of the project's scope. The interim action is designed to protect surface water quality and recover contaminants prior to discharge to the river.
To date, more than 203 million gallons of groundwater have been extracted through the interim action system, preventing 795,000 pounds of ammonia and 3,950 pounds of uranium, the contaminants of concern, from reaching the Colorado River. Extracted groundwater is pumped to a lined 4-acre pond on top of the tailings pile where it is sent to forced-air evaporators.
"Our interim action system efficiently and cost-effectively protects the river, which is a drinking water source for millions of downstream users," said Metzler.