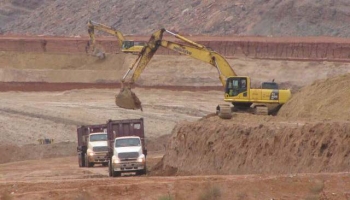 Empty containers on haul trucks are being loaded with mill tailings.
(Grand Junction, CO) ― The number 1,584 may not mean much to most people, but for the workers on the U.S. Department of Energy Moab Uranium Mill Tailings Remedial Action Project, it represents the number of days without a work-related, lost-time injury or illness, as defined by the Occupational Safety and Health Administration. That's more than 4 years, from November 2009 through February 2014. In those 4-plus years, employees have safely logged more than 2 million work hours.
Remedial Action Contractor, Portage, Inc., and Technical Assistance Contractor (TAC), S&K Aerospace, LLC, hosted a celebration today to commemorate the achievement. TAC employee hours not only contributed to this safety record, but TAC workers have never had a lost-time injury since the original contract was awarded in June 2007.
"We have a great workforce that is dedicated to the strong safety culture that has been developed on the project," said Portage Project Manager Jeff Biagini. "This celebration belongs to the employees—they've earned it."
Site employees also received American National Standards Institute-approved orange T-shirts to wear as the weather warms up. Banners highlighting the accomplishment were hung in visible locations around the project.
"Reaching this milestone demonstrates that safety is our highest priority in completing our mission to relocate 16 million tons of uranium mill tailings away from the Colorado River," said Federal Project Director Donald Metzler.
The Moab Project has relocated more than 41 percent of the mill tailings pile at Moab to a U.S. Nuclear Regulatory Commission-approved disposal cell near Crescent Junction, Utah, 30 miles away from the river.