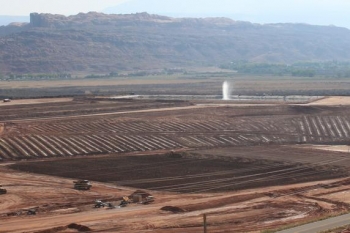 Pictured here is the Moab uranium mill tailings pile. Tailings excavation and conditioning activities are seen in the foreground. The water spray is used to eliminate extracted contaminated groundwater.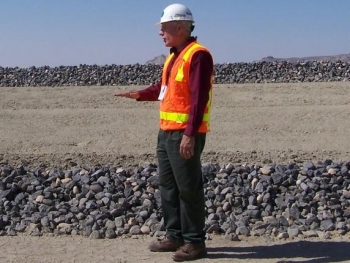 Moab Federal Project Director Donald Metzler stands on a final cover layer of the disposal cell. Several other layers are visible behind him.
MOAB, Utah – In the past 5 years, DOE has seen many successes in the Moab Uranium Mill Tailings Remedial Action Project.
Among the accomplishments were designing and building the necessary infrastructure, and relocating almost 35 percent of the uranium mill tailings pile along the Colorado River near Moab to an engineered disposal cell constructed near Crescent Junction, Utah. Also during this timeframe, about 90 acres of the estimated total 250 acres of the disposal cell were excavated, and final cover materials were placed over compacted tailings that had reached design height. Overall, this work in the past five years was completed for about $8 million less than budgeted.
The total project cost estimate ranged between $1 billion and $1.05 billion to relocate the entire 16 million tons of tailings. The Moab Project received American Recovery and Reinvestment Act funding, which facilitated the relocation of 2.6 million tons of tailings. The Recovery Act project, completed in 2011, accelerated the project end date by three years from fiscal year 2028 to fiscal year 2025, and reduced the total project cost estimate by approximately $100 million. Uranium mill tailings are radioactive sand-like and clay material that remains after the ore is processed.