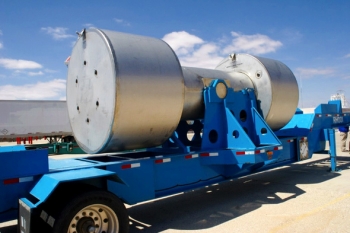 WIPP's 700th defense-related RH-TRU waste shipment was transported in an RH-72B shipping package. The shipment from the Idaho site arrived Sept. 12.
CARLSBAD, N.M. – On Sept. 12, 2013, the 700th shipment of remote-handled (RH) transuranic (TRU) waste reached the gate at EM's Waste Isolation Pilot Plant (WIPP). 
The milestone shipment was transported to WIPP in an RH-72B shipping package that originated from the EM program at DOE's Idaho site.
"Safety is the most important aspect of every shipment," said EM Carlsbad Field Office (CBFO) Manager Joe Franco. "This milestone demonstrates the significant progress being made in our safe, compliant and efficient cleanup efforts. This accomplishment is shared among the dedicated WIPP team and at all the sites involved." CBFO has responsibility for WIPP and the National TRU Program.
RH-TRU waste is one of two types of TRU waste disposed at WIPP and represents approximately four percent of the anticipated disposal volume. It has a higher surface dose rate than the contact-handled TRU waste, which comprises the remainder of the disposal volume.
Disposal of RH-TRU waste began in January 2007, nearly eight years after WIPP received its first shipment. Since beginning operations in March 1999, WIPP has received more than 11,500 shipments of defense-related TRU waste, which safely traveled over 13.8 million loaded miles.
While RH-TRU waste has been shipped from eight sites, the Idaho site provided the largest number — 360 — of the RH-TRU waste shipments. The Idaho Cleanup Project attributed the success to close collaboration between the EM headquarters and field offices, WIPP and contractors. This collaboration has allowed for significant progress towards meeting the Idaho Settlement Agreement commitments. That agreement between the State of Idaho, DOE and the U.S. Navy requires DOE to safely remove legacy transuranic waste from the State of Idaho b y Dec. 31, 2018.
WIPP is a DOE-owned facility designed to safely isolate defense-related TRU waste from people and the environment. Waste temporarily stored at sites around the country is shipped to WIPP and permanently disposed in rooms mined out of an ancient salt formation 2,150 feet below the surface. WIPP, which began waste disposal operations in 1999, is located 26 miles outside of Carlsbad, N.M.