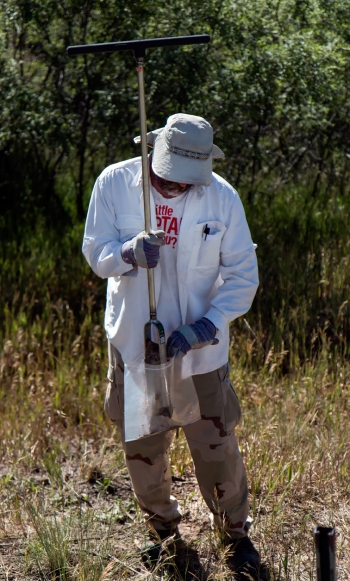 Sampling locations are on steep, heavily vegetated terrain requiring subcontractor TerranearPMC crews to take hand-augured samples rather than using a drill rig.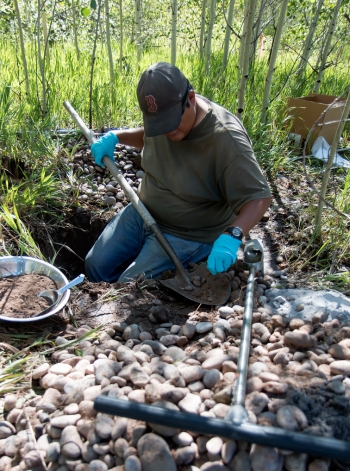 Crews collect samples from the site of the former sanitary waste leach field.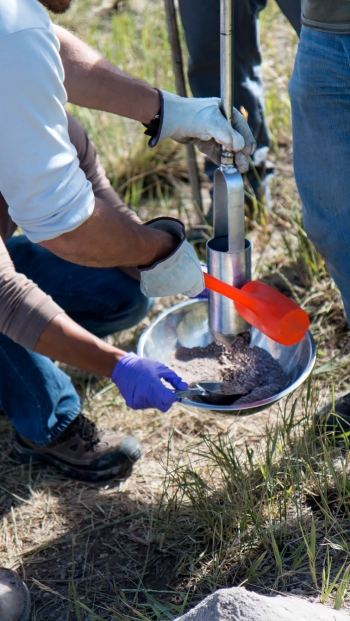 Soil samples will be analyzed to determine if additional work is required at the site.
LOS ALAMOS, N.M. – Supporting future land use for the U.S. Forest Service, Los Alamos National Laboratory's Corrective Actions Program (CAP) completed sampling soil at Fenton Hill in the Jemez Mountains this month. 
   Fenton Hill, known to the laboratory as TA-57, is located on Forest Service property.
   DOE historically used the site between 1974 and 1992 for geothermal experiments in an attempt to generate energy using steam produced from pumping water into hot rocks deep in the ground.
   Most of the 10 areas of concern on the site were previously addressed. The EM-supported initiative under CAP involves investigating the two remaining areas of concern — a former liquid waste drum pad and a former sanitary waste leach field.
   The 2005 Compliance Order on Consent requires investigation of the site so in addition to releasing the property the accelerated investigation is another step toward the laboratory completing two more sites on property no longer used by DOE.
   In addition, with steep hillsides and plush vegetation, the terrain on the site is home to the Jemez Mountain salamander, a species placed on the federal endangered species list in 2013.
   Although laboratory work seldom interferes with this species, the laboratory takes precautions to avoid disturbing the salamanders' habitat just as it does with other endangered species.
   Because the site is in the mountains, the laboratory's project manager worked with the institution's biology team to carefully assess the area and select sampling locations that would not disturb the salamanders' habitat.
   "The laboratory works closely with property owners to ensure property formerly used by DOE is returned to the property owners in a condition suitable for an agreed upon future land use," said Historical Properties Completion Campaign Project Manager Todd Haagenstad. "Finishing our work at these sites, while protecting the environment, is a priority and an obligation we take seriously."
   In the coming weeks, the sampling results will be analyzed to determine if additional work is required at the site.