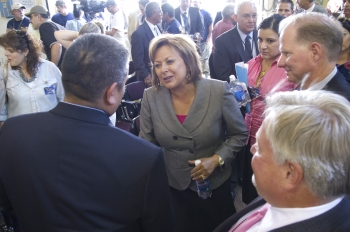 New Mexico Governor Susana Martinez greets Terry Aguilar, governor of San Ildefonso Pueblo, while Frank Marcinowski (lower right), EM deputy assistant secretary of waste management, and Dan Cox, LANL associate deputy director for environmental affairs, look on.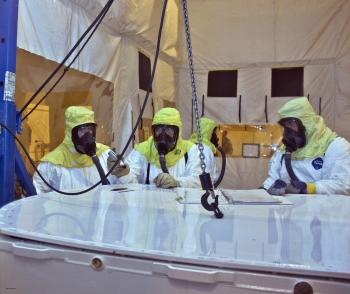 Much of the waste stored at LANL's Area G must be repackaged before it can be sent to WIPP for permanent disposal.
LOS ALAMOS, N.M. – A project to ship 3,706 cubic meters of transuranic (TRU) waste stored above ground at Los Alamos National Laboratory is ahead of schedule, on budget and has resulted in improved relationships among EM, the state of New Mexico and the National Nuclear Security Administration.
Last year, a massive wildfire in New Mexico came to within 3.5 miles of Area G, where the Lab stores TRU waste. After the fire, New Mexico Gov. Susana Martinez made shipping the waste to the Waste Isolation Pilot Plant (WIPP) for permanent disposal the state's highest environmental priority. A joint effort among DOE, the New Mexico Environment Department and the Lab resulted in a framework agreement that realigned the Lab's environmental priorities and accelerated the shipment of 3,706 cubic meters of TRU waste to WIPP.
A few short months after the framework agreement was signed in January, the project is ahead of schedule and on budget.
"A lot of people have worked collaboratively to make this project a success," said TRU Waste Program Manager Lee Bishop. "We've ramped up in a short period of time to accelerate the repackaging and shipment of waste to WIPP."
The Lab's goal is to ship 800 cubic meters of waste in fiscal year 2012, 1,800 cubic meters in fiscal year 2013 and the remaining 1,106 cubic meters by June 30, 2014. By early July 2012, more than 580 cubic meters of waste had been removed from Area G, with LANL on track for another year of record-breaking shipments to WIPP.
In late June, LANL's TRU Waste Program celebrated its 1000th shipment to WIPP with a celebration that featured Martinez.
"With the support of our partners at DOE and the state, we have been able to quickly accelerate shipments to WIPP," said Dan Cox, associate deputy director of environmental programs at the Lab. "There's a lot of work yet to do, but with the addition of new facilities to process waste and these early, encouraging results, we believe we'll be able to ramp up our efforts even further."